5 May 2013, 19:41

My wife is leaving me again this coming weekend. Instead of sitting here feeling sorry for myself, I propose that I do stuff to make me forget about her. (Melissa, if you're reading this, I won't forget about you. Promise.)
In order to do this, I need help. So, for an excursion this Saturday, you can all excurse to my house, which is in the picture that should be just below these words.
The address (for those that don't know) is 3/5 Cockburn St, Kilbirnie, and you can be sure you're in the correct place if you see a very faded Phoenix flag in the window. It's not very hard to find, especially if you've recently checked out funeral homes in the region (there's not much else here). And if you get lost, I can always call you and tell you how to get unlost. 021366055 is my number.
Now that you all know where to come, what is there to do? I have no idea. Well, I have a few. You could get a crayon out and practise your zeroes (a.k.a., do my marking). You could sit on the couch and look at the back of my head while I play with Jaina. You could bring a friend and see if I can freak them out (I probably can't, I'm mellowing out in my old age). You could turn my lounge into a fort and move the sign in the photo up there on to it to keep the girlies quiet. You could get some chairs and sit out in my lawn and watch the fences (they're too high to watch the world go by). You could abuse me so much that I refix the light that Melissa kicked. Yes, with her foot. Yes, it's on the ceiling. You could kidnap me and hold me for ransom until I pull out my cellphone, play the MacGyver theme and escape. You could give me something to paint with my paint. You could bring your favourite board game and make me play it. You could come and listen to 3 hours, 52 minutes, and 25 seconds of S Club 7. You could bring a DVD and watch it. You could get a lecture on Matroids. You could make me get some chocolate and then hide it all around the house for Melissa. The possibilities are limited, though large.
If you're here around the times that I eat, and depending on the meal, there is a chance I will make you some food. Unless you deem that unsafe, in which case I'll make myself food and you can watch me eat (and not die) or something.
There's no need to say you're going to show up. Though you can if you want. And it might be a little awkward if I've been kidnapped (I'll try to make sure the kidnappers leave a note so you can join them in poking me with sticks and calling me names). It would be nice to know if you intend to come for dinner, though we can all have a sub-excursion to Pak'n'Save if need be.
So, to summarise (the tl; dr version): Saturday 11th, come to Michael's house and do stuff.
Posted by Michael Welsh at 07:41.
Eye
23 April 2013, 19:43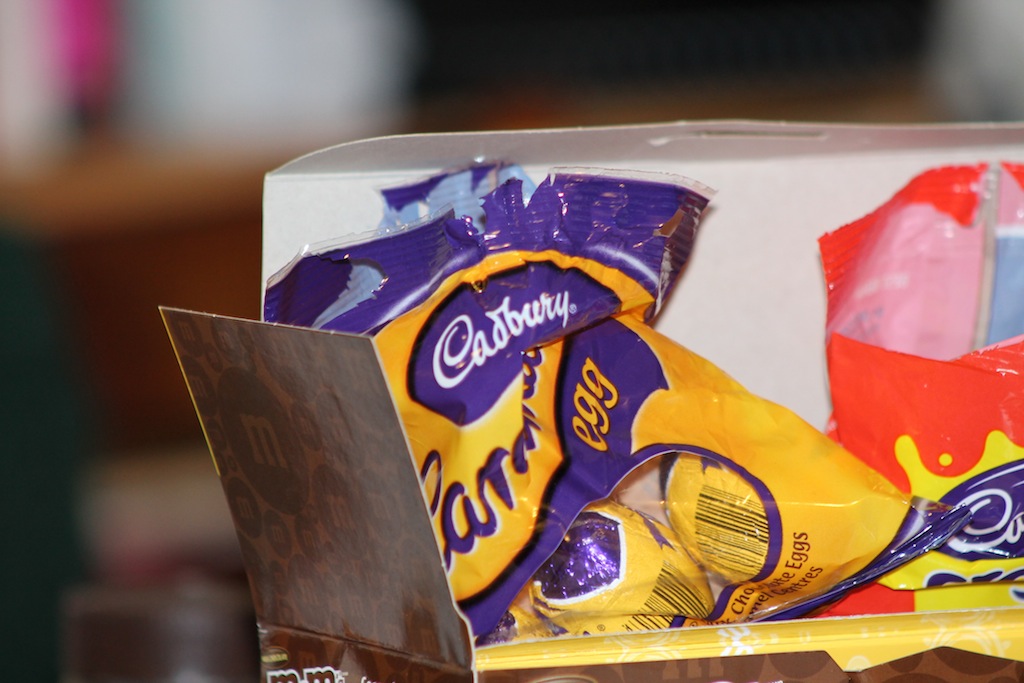 This weekend I want to play with my new toy. Which is not a baby, much to Esther's dismay. So I want to go to Zealandia (which is the reason why I got my toy), but that was last time. And people don't like to pay (it's totally worth it though). We'll go back there in a month or so.
Anyway, we're going up the road a bit to Otari-Wilton's bush, which is the same sort of place, with less fence. And less birdies. There's a suggested trail in my book that I buyed off the Internet, which is basically walking around the outside. But I'm not going to commit to a particular track until the day, because I'm like that. The forecast is currently Fine. Strong northwesterlies, easing. and I've made a request for the car (3 free seats, as per normal).
For various reasons I'm starting this one a little later: 1130 at the main carpark/info place. I haven't been there for years (scored my first goal at the park there, from central midfield of all places) so I have no idea what to look for. The bus will dump you pretty close, I guess.
As normal, RSVPing is much appreciated (mainly to ensure we don't ditch you if you're late). 021366055, or email, or talk to me, or throw a rock into my garden, or singing telegram or lining up branded undergrads somewhere along my route to work. Something like that.
Posted by Michael Welsh at 07:43.
Validate [1]
9 April 2013, 19:09

This Saturday (13th), we're heading back to Zealandia, because we can. We're planning on going there fairly regularly. It's a nice place. Oh, and there's this (half-price if you pretend to be our friends, to a limit of 12 people). Unfortunately, if you're one of the people who has scammed a gold card, the discount doesn't apply.
The forecast for Saturday is Showers clearing to fine spells. Northerlies, which means basically nothing, as it's fairly dense bush. And these things called "jackets", which you should look into. And we'll probably do The exhibition this time. It opens at 10, but that's too early for us, so 1030 sounds good. Meet in the big building thing (it'll make sense when you get there). We have the car booked, but there are some questions about that, so we'll see. But in theory we have 3 free seats to take people too lazy to walk.
Oh, tell me if you want to come – 021366055.
Posted by Michael Welsh at 07:09.
Pounce [1]
26 March 2013, 09:38

This weekend (30th, Easter Saturday), we're planning to go out to Makara and get abused by blackberries. Might get some food as well (assuming there's some there to be had). The forecast is currently Dry with northwesterlies because we're still going to be in drought. Which means no showering or washing the dishes, let alone drinking…
Transport is sorted, so we have three spare seats. I haven't completely decided on a time, but it'll be something like 1100 out there. My number is 021366055 if its required. I'm more likely to reply to a text than I have been in the past.
Posted by Michael Welsh at 20:38.
Authorise [2]
12 March 2013, 18:15
This weekend (the 16th), our excursion is the Eastern Walkway. The current forecast is Cloudy at times. Northerlies., so that's good (I really should get some more wet-weather excursions on my list — any ideas?)
Anyway, we're unsure about transport, but will know later. Later might be Saturday morning, so who knows. The aim is to show up at 1000 at the beginning, which is on Inglis St, near Fort Dorset (Seatoun School). As normal, my number is 021366055. We'll do the loop, have a picnic (ugh) lunch somewhere, then go exploring Fort Dorset.
Posted by Michael Welsh at 05:15.
Expect [2]
25 February 2013, 22:02
As my wife is leaving me, there is no excursion this Saturday. Unless somebody else has something happening.
Posted by Michael Welsh at 09:02.
Level
24 February 2013, 12:57
Really knocking it out today.
Posted by Michael Welsh at 23:57.
Recognise
24 February 2013, 10:43
It's been over five years, but I've finally put all the wedding photos I have up on the Internets. You can go and look at them. It's surprising how much smaller photos get when you rip out EXIF data.
Posted by Michael Welsh at 21:43.
Splutter
23 February 2013, 12:22
Posted by Michael Welsh at 23:22.
Gag
12 February 2013, 09:30
The plan for this Saturday (the my-calendar-is-in-April-so-you-figure-it-out-th) is to go to Zealandia and have an explore. It's \$28.50 (I'm using a \$ without it being $\LaTeX$) for an adult and \$18.50 for a student. I'm not sure yet if the car is free, so we may be having to find an alternative way to get there.
The current forecast is Dry. Westerlies.
Anyway, meet at 1045 at the entrance if you're interested, and tell me first, so we wait. If you don't have it, my mobile number is 021366055. Please be nice with it…
Posted by Michael Welsh at 20:30.
Clutch