20 May 2016, 23:34

Canon EOS 7D Mark II, Canon EF-S 24mm f/2.8 STM lens, 1/125 second @ f/4.5, ISO 800.
This week, we've been challenged to shoot some doors.
Most of the doors around here are pretty meh, but there is the Wellington Indian Association just down the road. This morning the wether was clear and I had hoped that the centre would be all shut up. Unfortunately, it wasn't, but it was pretty much shut. This is the image I've ended up with. I'm not too happy with it (I can't seem to get it straight in two directions for one), but it is what it is.
Posted by Michael Welsh at 23:34.
RANDOM VERB
12 May 2016, 09:18

Canon EOS 7D Mark II, Canon EF 70-200mm f/2.8L IS II USM, 1/160 second @ f/2.8, ISO 200.
This week the challenge is to take a portrait of a mother.
We're away on holiday this weekend (#ChathamCupRoadie) and so I only really had one choice of mother. And not much time (or editing power – my laptop sucks). So here's a portrait of Mother.
Posted by Michael Welsh at 09:18.
Compose yawningly
6 May 2016, 22:18

Canon EOS 70D, Canon EF 100mm f/2.8L Macro IS USM, 1/200 second @ f/6.3, ISO 250.
This week the challenge is to shoot a flower bud.
It's autumn, so there aren't really any buds around. I did manage to find this rose one, and shot it last night. The light was crap, so the flash came out (I got Melissa to hold a diffuser that I fired through). It was also windy, which makes using the macro lens interesting as the depth of field is so tiny.
Posted by Michael Welsh at 22:18.
Defile inoffensively
30 April 2016, 05:27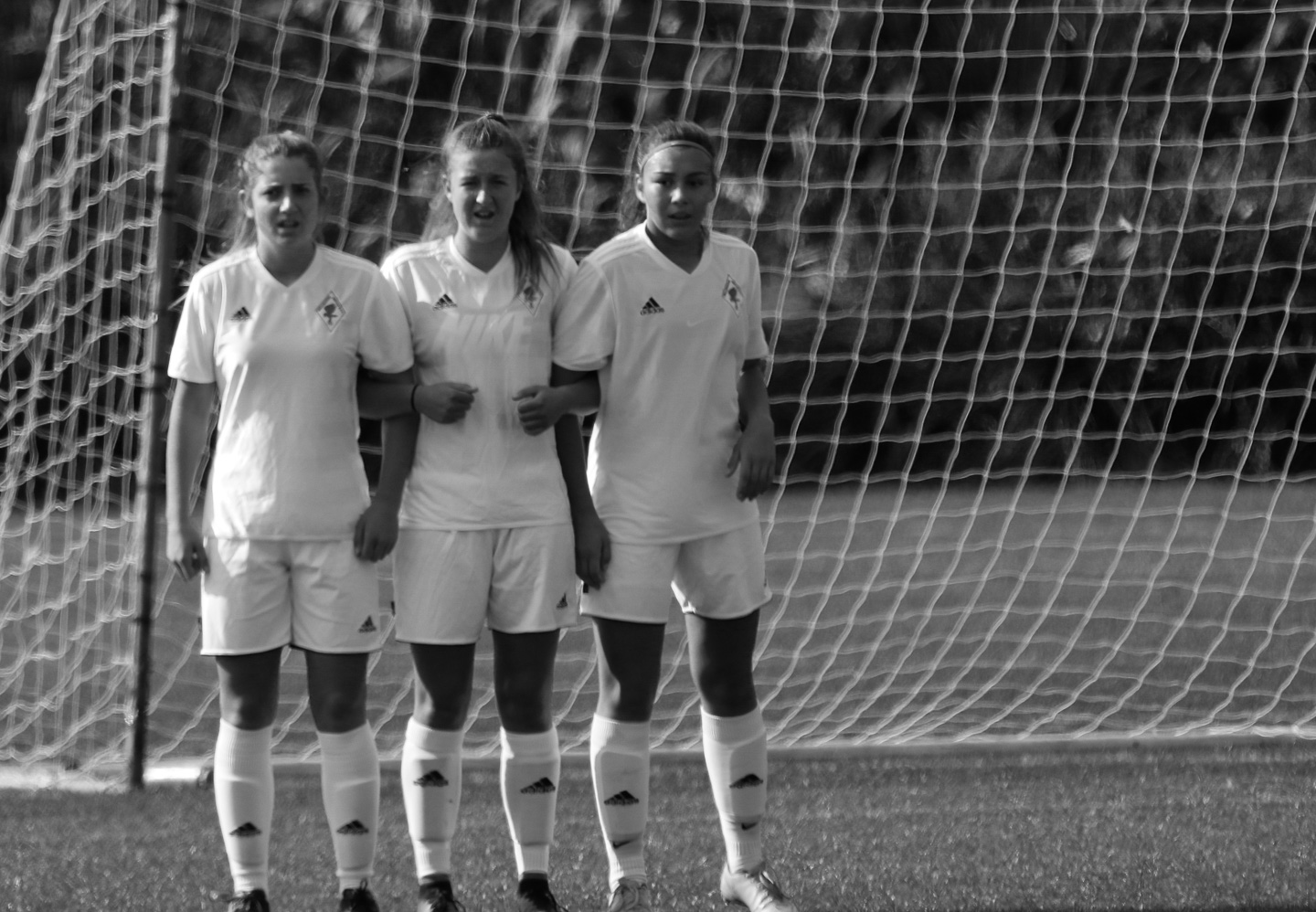 Canon EOS 7D Mark II, Canon EF 70-200mm f/2.8L IS USM + 2× III lens @ 400mm, 1/1600 second @ f/5.6, ISO 320.
This week, it's black and white, and we've just been given a very vague theme: steadfast.
One of the sentences in the blurb is "No matter what genre of photography you prefer, you should be able to find something to represent the concept of steadfast, just it shoot in a black and white." Well, at the moment, I pretty much only shoot football, and this week the Diamonds played on Saturday, so I have two girls games to go to (which is irrelevant). So today at the Diamonds game (they won 4-1 away to Stop Out) I had half an eye out for getting something that I could use for this challenge. I saw these Diamonds lining up a defensive wall, and took it. They are dutifully firm and unwavering, so it fits the challenge. I then made it black and white in Lightroom and that was it. (I shoot JPG at football games, so there's not much editing to be done anyway. Except cropping. I always crop.)
Posted by Michael Welsh at 05:27.
Recite anticipatorily
19 April 2016, 07:42

Canon EOS 70D, Canon EF 100mm f/2.8L Macro IS USM lens, 1/200 second @ f/4.5, ISO 640.
This week the challenge was to take a portrait of a domestic bird.
This is somewhat out of my comfort zone. I normally shoot wild birds (I'm quite fond of hihis) at Zealandia. My back-up plan was to shoot the takahē on Sunday. They're basically domesticated. However, one of Melissa's dancing friends has a pair of canaries. So we wandered over there, armed with all the kit. I set up my flash into an umbrella, and pointed it at the birds (you can see the catchlights in the eyes). I know that the challenge said "use natural diffused light if you can", but it's easier to just use a flash, especially in dim light with flighty birds. I shoved the macro's lens hood right up to the cage and fired away. I quite like this shot because it makes the canary look a little like a chicken, which I find amusing.
Posted by Michael Welsh at 07:42.
Flail aromatically
14 April 2016, 05:33

Canon EOS 7D Mark II, Canon EF 70-200mm f/2.8L IS II USM lens @ 130mm, 1/160 second @ f/2.8, ISO 4000.
This week we're back to portraits and the challenge is environmental portrait, which is actually an occupational portrait upon further reading. Oh well.
My first thought was to go shoot at the hospital, as I have an in there. However, that needed to go through the communications department at the hospital, so screw that. Instead, I went for a site visit today, and took some photos of the builders working. This is a builder removing a ceiling. You can see the gib falling and all the particles on his face. There wasn't much space to frame up a nice photo (this is basically framed between some wires and a prop), and there wasn't much light, so I was quite restricted in what I could do.
Posted by Michael Welsh at 05:33.
Danceswirl shakily
8 April 2016, 05:10

Canon EOS 7D Mark II, Canon EF-S 18-55mm f/3.5-5.6 III lens @ 55mm, 1/320 seconds @ f/5.6, ISO 1250.
The theme for this outdoor week of the photo challenge is Death in Nature.
I wasn't really feeling it this week, and with the football season now in full swing, my weekends are a little busy, so I don't really want to go wait for a better photo (I have a few half-ideas, but they all involve that precious resource: time during the day). On Tuesday, I went to Newtown for a site visit, and came back over the hill via the Southern Walkway. I had my camera with me, so I took a few photos that I thought fit with the theme for this week. This is the best of a bad bunch, unfortunately. It's a leaf that has shrivelled up and died, with the other leafs around it showing different stages of death: some have been gnawed on, and some are starting to brown.
Hopefully in the future I'll be able to manage my time better. We'll see.
Posted by Michael Welsh at 05:10.
Dribble charismatically
30 March 2016, 05:38

Canon EOS 70D, Canon EF 70-200mm f/2.8 IS II USM lens @ 168mm, 1/1000 second @ f/5.6, ISO 160.
This week, it's back to black and white. And it's one that I really don't like: street photography. I just don't get street photography, which is a rant for another time.
I went and stood on the corner, with no real idea what to shoot. I was thinking of maybe catching someone over the road smoking in their doorway, but they weren't there. It was probably too early for them. Then I saw that I had some lines leading towards the fire training tower at the end of the street. I looked up, and then hurriedly snapped off some shots, trying to catch the plane and the man walking. I then hung around for a bit to see if I could improve on this, but I had no luck.
Hopefully street photography doesn't come up again this year.
Posted by Michael Welsh at 05:38.
Tempt ficklely
25 March 2016, 08:17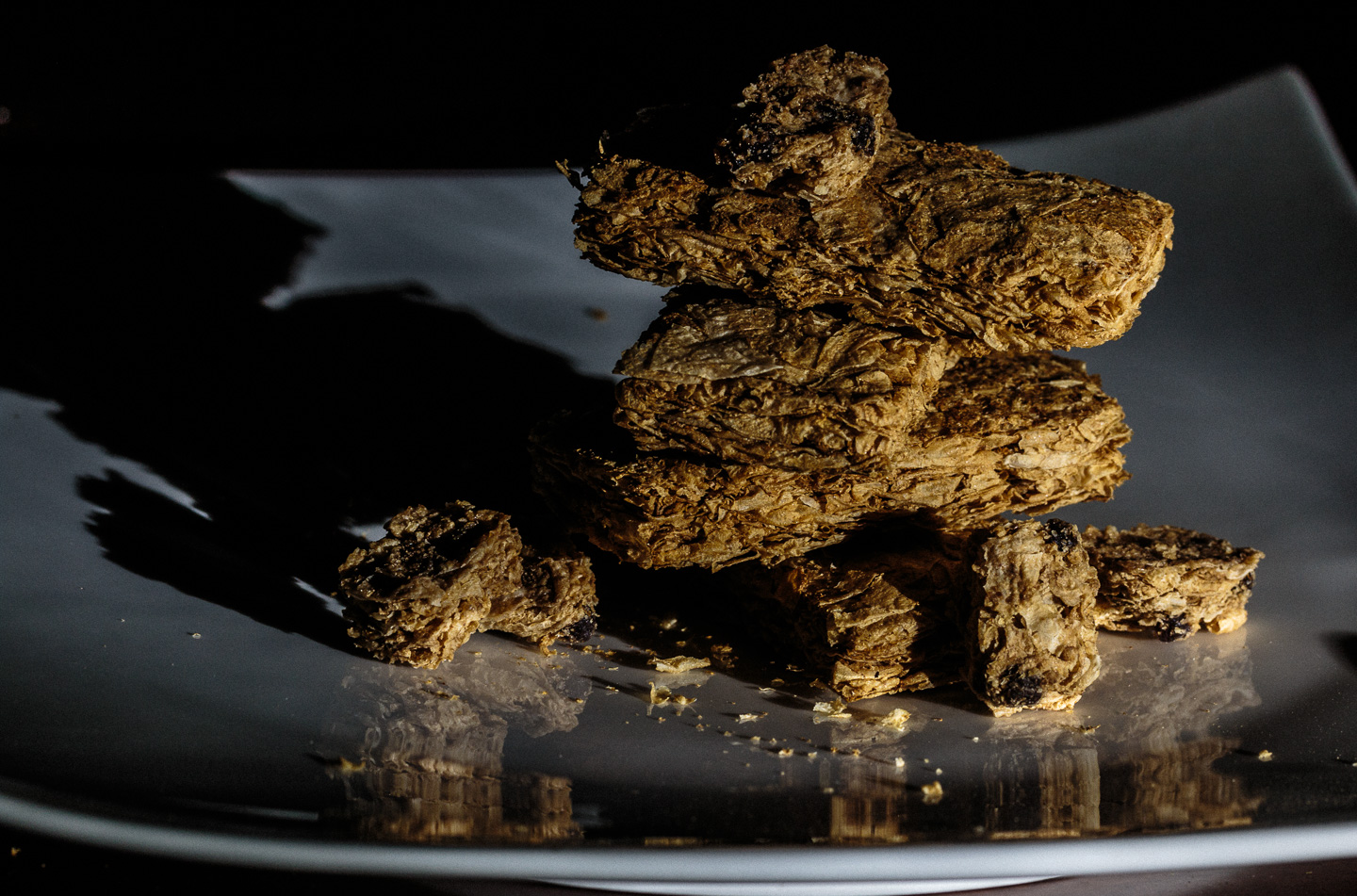 Canon EOS 70D, Canon EF 100mm f/2.8L Macro IS USM lens, 2.5 seconds @ f/8, ISO 125.
This week, the photo challenge was to do a still life in the style of some Dutch masters. It's the first challenge that I just haven't really been bothered much with. It might be because I have so much else going on at the moment, but more likely, I just don't care about still life (thankfully I missed the HDR week).
One of the styles is Ontbijtjes ("little breakfast"). So I thought I'd get a little breakfast and shoot it in the style. So here's a little bit of Weet-bix, with some of Melissa's little fruit Weet-bix hanging around. I put it on a nice serving dish we have, and made Melissa light it with a torch. The plate picked up some nice reflections.
Posted by Michael Welsh at 08:17.
Smirk fetidly
18 March 2016, 21:32

Canon EOS 7D Mark II, Canon EF 100mm f/2.8L Macro IS USM lens, 1/250 seconds @ f/2.8, ISO 100.
We're back to portraits this week in the photo challenge, and this time we're supposed to use bounced light.
Bouncing light is something I'm quite familiar with (at a basic level at least), so the real challenge was finding a subject. So when Susan and Kassie came around to help stuff tea bags, I jumped at my chance.
This was shot with an off-camera flash in a soft-box thing (it attaches to the flash head, the blue shop sells them) pointing at Kassie from the left of frame, and Melissa holding a reflector to bounce some of that light back onto the right side of Kassie's face. I had her pose so the flash hit her at an angle, just because. A little bit of spot removal in Lightroom et voilà.
Posted by Michael Welsh at 21:32.
Gobble venerably
previous article -
next article -