22 October 2016, 18:30

Canon EOS 7D Mark II, Canon EF 24-70mm f/2.8L II USM lens @ 24mm, 1/250 second @ f/8, ISO 250.
This week, the challenger has a Theta and so is challenging us to make some tiny planets
There was only really one place I could go to make a tiny planet: Zealandia. So I went up there yesterday morning, and took a bunch of panoramas (as an aside, even though I only had a 24-70, I did manage to get a good photo of a hihi). Lots of them had one side of the photo in shade and the other in sun, which looked terrible when turned into a planet. But I took a few 360° panos on the swing bridge, and this one turned out pretty good. I'm also a little surprised it didn't run my computer dead, as it's something like 35 images.
Posted by Michael Welsh at 18:30.
Banish incautiously
15 October 2016, 03:19

Canon EOS 7D Mark II, Canon EF 24-70mm f/2.8L II USM lens @ 61mm, 1/200 second @ f/2.8, ISO 125.
This week the challenge has been to encapsulate wealth in a black and white photo.
Upon reading the challenge, I immediately thought of Audrey Hepburn in Breakfast at Tiffanys. So I went and found the poorest model I could, blinged her up a bit, pointed a flash at her, and took some photos.
Posted by Michael Welsh at 03:19.
Retire conclusively
7 October 2016, 05:54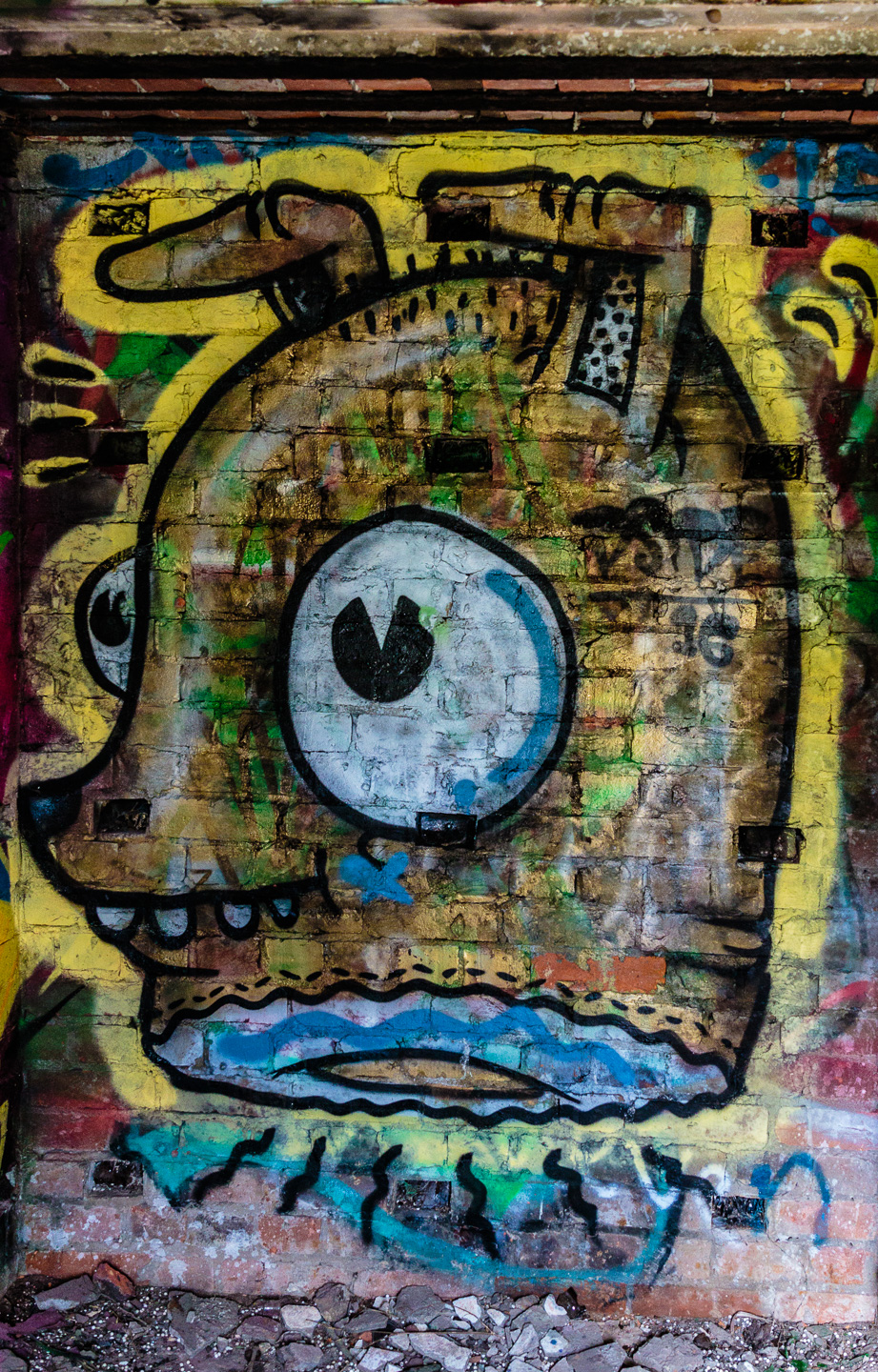 Canon EOS 7D Mark II, Canon EF 24-70mm f/2.8L II USM lens @ 24mm, 1/125 second @ f/3.2, ISO 1250.
This week the challenge was to get out and shoot some graffiti.
I ordered a new toy on Monday, and it arrived on Wednesday, so I got to use it for this challenge, which makes me happy. Anyway, Melissa did a search for graffiti in Wellington, and came across a spot which isn't too far from where we live, which is good (I was thinking of some spots in Karori, and who really wants to go there?) A little Apple Maps stalking, and we figured out how to get there, so I decided to slack off work early and go out this afternoon. When we got there, there was so much stuff that I had far too many photos to choose through, so I made an album to showcase some of my other photos. I also should have taken a flash. Anyway, this is the one I picked.
Posted by Michael Welsh at 05:54.
Scrape toxically
1 October 2016, 05:18

Canon EOS 7D Mark II, Canon EF 70-200mm f/2.8L IS II USM lens @ 145mm, 1/200 second @ f/2.8, ISO 320.
This week the challenge is take a portrait of someone in nature
I've had basically no ideas all week, but I did manage to arrange a model and a time. We went out to the Hutt through the rain, picked up Esther, and drove a little down the road to the river, walked along the path for a while, before coming across some trees that Esther had spied on her bike trip home. She went clambering in them, and we did this "winter" themed shot. We tried some other looks/locations, but this is the one that I liked the best.
Posted by Michael Welsh at 05:18.
Infuse sweetly
22 September 2016, 08:46

Canon EOS 70D, Canon EF 24-105mm f/4L IS USM lens @ 105mm, 13 seconds @ f/10, ISO 200.
This week the challenge is get some water reflections.
I'm rather busy this week (and the weekend is out as I have a big event on Saturday), and the weather isn't playing nice (it's pretty much still, which means ~30km/h winds, and there's hardly any rain), so I've been somewhat limited it what I could shoot. We went around to the tip of Miramar peninsula last night to try and get some nice reflections of the city (something like what I managed in the night sky scenic photo). However, the clouds weren't playing nice and I wasn't really getting any reflections. Plus I'd left my Triggertrap at home, so I couldn't really use bulb mode.What I did manage to get is some light beams shining out over the harbour. I had a go at a massive (Eastbourne to Mt Vic) pano, but I couldn't get the lines to work, so that was also a no go.
Posted by Michael Welsh at 08:46.
Pack flavoressly
16 September 2016, 05:24

Canon EOS 70D, Canon EF 50mm f/1.8 II lens, 1/80 seconds @ f/5.6, ISO 200.
This week we're doing black and white shots with an emphasis on shape.
Feeling all meta, I've got some Shapes (all the different ones that were at New World when we went), put them in a sort of triangle on a dish and taken a photo of them. You can see the flavour in black and white even.
Posted by Michael Welsh at 05:24.
Hear effortfully
10 September 2016, 02:28

Canon EOS 7D Mark II, Canon EF-S 18-55mm f/3.5-5.6 III lens @ 18mm, 1/1000 second @ f/7.1, ISO 400.
This week we've been challenged to take a photo from a ground level perspective.
Since it's been a little stormy this week, I thought I'd have to do this indoors. But we got a good 10 minutes of sun after lunch today, so I went and lay on the ground and had Melissa leap off the front steps over my head. She didn't land on me at all.
Posted by Michael Welsh at 02:28.
Bug contrarily
3 September 2016, 07:22

Canon EOS 70D, Canon EF 70-200mm f/2.8L IS II USM lens @ 70mm, 10 seconds @ f/8.0, ISO 800.
This week we're doing a portrait spin on light painting.
My main issue with these portrait challenges is finding a new model each month. Thankfully, my father-in-law (Rob) came to stay with us last night (free motel), so I made him come out and do some light painting. The one I've picked is him ``drawing'' a rabbit out of a hat, much like a magician would. To shoot this, I used my pocket wizards as a trigger (which means I had to use the 70D), and had Melissa manually fire a flash once I yelled out it was time to go. Rob then had whatever remained in the 10 seconds to try and draw his rabbit while keeping the hat/pot of gold as still as possible. After a few shots like this, he played with some leftover sparklers from the light Esther on fire photoshoot. I've included a sparkler image below.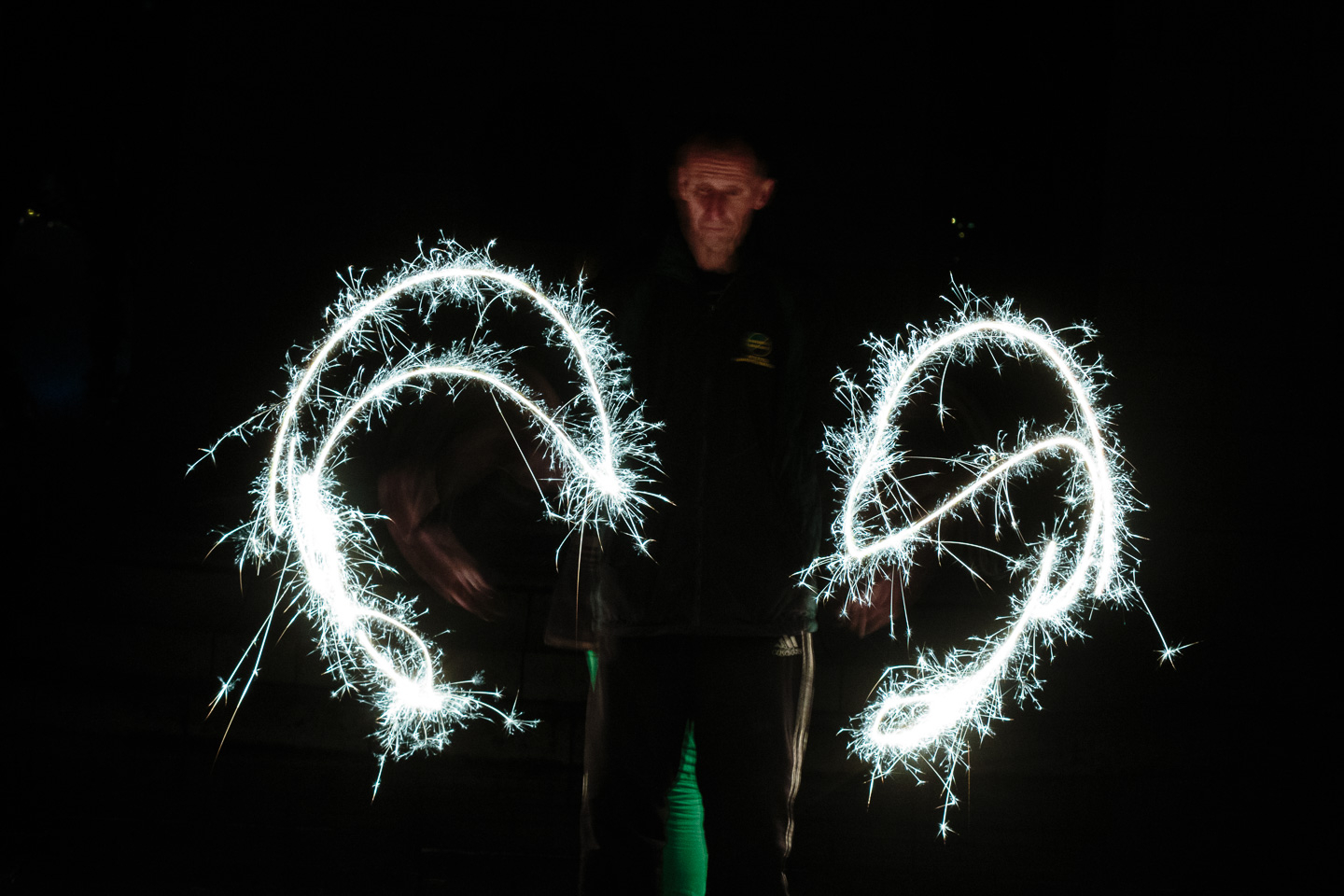 Posted by Michael Welsh at 07:22.
Roast weepily
26 August 2016, 09:07

Canon EOS 70D, Canon EF-S 24mm f/2.8 STM lens, 10 seconds @ f/5., ISO 200.
This week the photo challenge is go outside and get a scenic shot of the night sky.
Looking at the forecast for this week, Tuesday was going to be the only maybe clear night. We weren't feeling too good, but we went out to Massey Memorial (a local tomb) around 9pm on Tuesday night anyway, and I tried to get some astrophotography done. I got a few shots (album on Dr yomcat shoots), but the shots of the stars were all bad due to motion blur. Turns out I have a maximum shutter speed of 13 seconds before I get motion blur, not the 60 I was using. Next time I'll be ready.
However, I did spend a fair bit of time looking sideways, not up, and managed to make this real nice panorama of Mt Victoria, with Wellington city proper (the bright bit) in behind. The city really lit up the clouds, and they look cool. A full-size version of this pano is available.
Posted by Michael Welsh at 09:07.
Empower urbanely
21 August 2016, 04:01

Canon EOS 7D Mark II, Canon EF 70-200mm f/2.8L IS II USM lens @ 70mm, 1/100 second @ f/5.6, ISO 125.
This week the black and white challenge is to do something with the human body.
My first (and pretty much only) thoughts were boudoir (which Melissa has basically forbidden me from doing, and doesn't really fit my interpretation of the brief anyway) or something at football (but there was only one game this week and I didn't go to it). Then it was suddenly Saturday evening and I had no ideas, when Melissa suggested to get someone en pointe and take some shots of that. After getting turned down by one sister because of no notice, I pestered the other sister (featured last week among others) and asked if she'd like to mess up her recently-broken foot some more. She was up for it, so we took her some lunch/afternoon tea and made her pose for me.
I had a few shots that I liked, but I picked this one after pretty much everyone said it was the best one. I've included my second (basically unedited – I would have done something about the door crack in the background) below.
Posted by Michael Welsh at 04:01.
Reel lustfully
previous article -
next article -