30 November 2016, 18:09

Canon EOS 7D Mark II, Canon EF 100mm f/2.8L Macro IS USM lens, 1/4 second @ f/2.8, ISO 100.
This week we're told to make bokeh with light.
When I saw this challenge, I immediately thought of the two bokeh-based techniques I've been meaning to try out. Rather than deciding between them, I just used both.
Posted by Michael Welsh at 18:09.
Simper prejudicedly
26 November 2016, 21:15

Canon EOS 70D, Canon EF 24-70mm f/2.8L II USM lens @ 24mm, 1/3200 second @ f/2.8, ISO 250.
This week we're taking a group portrait because America.
This is the table-topping (for about 5 more hours as I write this) Capital Women's football team after their big (play-off clinching) win on Sunday. There were a couple of photographers around, so the girls are looking all over the place. I had hoped to get a better photo throughout the week, but being off work all week and my photography style (fly-on-the-wall, or creepy-guy-with-bigarse-white-lens, depending on how you look at it) colluded to make it not happen.
Posted by Michael Welsh at 21:15.
Furrow optimistically
14 November 2016, 01:40

Canon EOS 7D Mark II, Canon EF 24-70mm f/2.8L II USM lens @ 35mm, 1/200 second @ f/8.0, ISO 2500.
This week we've been tasked with getting some urban decay in our photo.
This is a photo of sediment from our water pipes washed up in the bottom of our bathtub. This is a result of some sudden decay at 0002 this morning.
Now, the explanation:
Firstly, I really dislike selective colouring, so I tried to get an image that wouldn't need it. I could desaturate the yellow in the bathtub a little, but meh.
So, this is a little different from the brief (which was kinda vague anyway), but I think it still works. As you may know, most of New Zealand was hit with a 7.5 earthquake at midnight. This has caused significant damage to roading and other infrastructure close to the epicentre, and there has been some liquefaction and cracking around Wellington. This has caused sudden urban decay as bits of the city fail to cope with the shaking (as opposed to gradual urban decay, which is what the challenge seems to be thinking of). I had hoped to get some photos of damage around where I live, but there does not appear to be any, which is good. However, the earthquake has shaken up the water pipes pretty bad (not many breakages, thankfully), causing decades worth of sediment to be shaken loose into the water supply. The only way to clear this out is to run the water until it goes away, so we've been running the bath a lot. This shows the sediment that has accumulated on the bottom of the bath (I turned the water off to get this shot) after a few hours.
Posted by Michael Welsh at 01:40.
Ring difficultly
9 November 2016, 08:25

Canon EOS 7D Mark II, Canon EF 70-200mm f/2.8L IS II USM lens @ 200mm, 1/125 second @ f/2.8, ISO 1250.
This week we're considering another aspect of form in our black and white series: typeface
When I saw this challenge pop up in my RSS reader, I instantly thought of my thesis and its sexy, sexy typesetting. Unfortunately, the challenger ruled that out in the first paragraph, so I was left with no ideas. Then, today, on the walk home from work, I was looking around for some signs that would work for the challenge, and I spied two. One was the Resene Color [sic] shop sign, which would have been amusing. However, it probably wouldn't work too well in black and white, So I went with the other option: the Brentwood. I went back later this evening, once the light was well and truly gone, to see how it looked when it was lit up. It was pretty nice, so I took some shots, and this is the one I liked best. Interesting story about that, just as I started shooting, a car pulled up on the other side of road (so between me and the Brentwood). Turns out it was a cop car, and two police officers got out, then helped somebody out of the back seat and starting asking questions about handcuffs. I took a few more frames (none of them) and then took off back home as fast as I could considering I was carrying $6,000 worth of gear in my hand. I don't think they took any notice of me…
Posted by Michael Welsh at 08:25.
Care raunchily
5 November 2016, 04:02

Canon EOS 7D Mark II, Canon EF 70-200mm f/2.8L IS II USM + 2× III lens @ 330mm, 1/1000 second @ f/5.6, ISO 6400.
This week we've been challenged to take a photo in nature, whilst forgoing everything that makes digital photography great
As those who know me would gather quite quickly, I'm very strongly for using whatever technology we have available. So this challenge was met with derision from me, as it's basically hamstringing yourself for no particular gain. Yes, I know there are reasons that some people spout, but I strongly disagree with them. Note that I'm talking about stuff like the shadows slider and cropping. Not crazy Photoshop manipulation.
Rant over, I went up to Zealandia (where else if it's a nature challenge) and chased some birds around. I got lots of photos, some of which are ok. I put an album up on Facebook with all the extras.
I picked this photo because it's a nice action shot of a hihi (best non-extinct bird) and highlights my point about the folly of not editing a photo – it needs a crop and some minor levels adjustments (which I can't do because it's a JPG).
Posted by Michael Welsh at 04:02.
Behold face-first
31 October 2016, 07:04

Canon EOS 7D Mark II, Canon EF 70-200mm f/2.8L IS II USM lens @ 185mm, 1/2000 seconds @ f/3.5, ISO 320.
Since most of my photography is sports photography, and my favourite sport to shoot is football, and my favourite team is (was) the Diamonds, here's a photo from the mud in Seatoun of Jayme-lee getting a little bit hurt.
Next game is Sunday: 1400 at Memorial Park in Petone. Free entry and stuff. Then it's the 20th of November, 1330, same place.
So, it's time for my annual "my wife doesn't know what I want" birthday list. In no particular order. Level of seriousness is left as an exercise for the interested reader. I'll keep this updated as stuff changes, so check back if you want to.
Canon

EOS

5D Mark IV
Canon

EOS

7D Mark II (I know I already have one, but I could always do with another one)
Lens list:
Any decent flash. The Canon 600EX-RT and 430EX

III

-RT are the Canon versions. I've also heard good things about the LumoPro LP180.
Lighting gear. Pretty much anything. Though the Lume Cube looks pretty cool.
Sandbags. Or bags I can fill with sand later. Maybe around 1-3kg kind of size. Even better if they have something they can hang from (like a drawstring).
Triggertrap Mobile Kit MD3-N3 (so I can use my 7D2 remotely)
Gift cards to my local camera stores (

WPS

is my favourite, but the blue one is ok as well).
These next three are distinct items, but they kind of need to be got in order, or they're not at full usefulness (it makes sense when you think about it).

Canon LP-E6N battery (could actually do with a bunch of these).
Canon BG-E16 battery grip (for the 7DII).

A mat for working out on. My carpet is grubby.
Some weights. Just those little ones.
External Hard drives. At least 4TB+. Bonus points if it's an

SSD

(that can be smaller, around 1TB min.)
A Full Set of The Carey Novels by Ronald Welch (there are 12 — good luck finding them, they're quite old. I already have Captain of Dragoons if that helps.)
Making the Print (or the bundle)
Other books. For reading and stuff.
An iPad. Also no research done. But I don't need the mobile one, just WiFi. I have an ancient second-hand iPad Mini, but could do with a bigger (and cleaner) screen.
Photoshop training. PhotoSerge and Phlearn are two teachers I quite like. A warning: if they don't offer downloading the videos, I don't want it. To get more specific (though almost anything will do. I can give Melissa a list of ones I have/don't want):
A car audio thingy, installed. That I can plug (no bluetooth) my iPhone in to. Though this is more for me and Melissa…
A 15m cat-6 ethernet cable.
A sleep mask. Those things that lots of people have on planes.
Basically, there's not actually that much that I want anymore. I'm getting old and content. And grumpy, but that's irrelevant. I went through last year's list and I've obtained pretty much everything I wanted off of it (printer, camera, lens, lighting stuff, etc.) You'll just have to use your imagination and in-depth knowledge of what I like for a change. Maybe I just want to go out and take photos of people and things.
Posted by Michael Welsh at 07:04.
Unwear chimingly
28 October 2016, 19:02

Canon EOS 7D Mark II, Canon EF 100mm f/2.8L Macro IS USM lens, 1/200 seconds @ f/4.0, ISO 200.
This week we've been challenged to do a split face portrait
This is half of one of my Barbies and half of one of my workmates. I need to get better at Photoshop (the Intous really helps though), and get more time to spend in Photoshop (not likely to happen).
Posted by Michael Welsh at 19:02.
Cackle sexily
22 October 2016, 18:30

Canon EOS 7D Mark II, Canon EF 24-70mm f/2.8L II USM lens @ 24mm, 1/250 second @ f/8, ISO 250.
This week, the challenger has a Theta and so is challenging us to make some tiny planets
There was only really one place I could go to make a tiny planet: Zealandia. So I went up there yesterday morning, and took a bunch of panoramas (as an aside, even though I only had a 24-70, I did manage to get a good photo of a hihi). Lots of them had one side of the photo in shade and the other in sun, which looked terrible when turned into a planet. But I took a few 360° panos on the swing bridge, and this one turned out pretty good. I'm also a little surprised it didn't run my computer dead, as it's something like 35 images.
Posted by Michael Welsh at 18:30.
Banish incautiously
15 October 2016, 03:19

Canon EOS 7D Mark II, Canon EF 24-70mm f/2.8L II USM lens @ 61mm, 1/200 second @ f/2.8, ISO 125.
This week the challenge has been to encapsulate wealth in a black and white photo.
Upon reading the challenge, I immediately thought of Audrey Hepburn in Breakfast at Tiffanys. So I went and found the poorest model I could, blinged her up a bit, pointed a flash at her, and took some photos.
Posted by Michael Welsh at 03:19.
Retire conclusively
7 October 2016, 05:54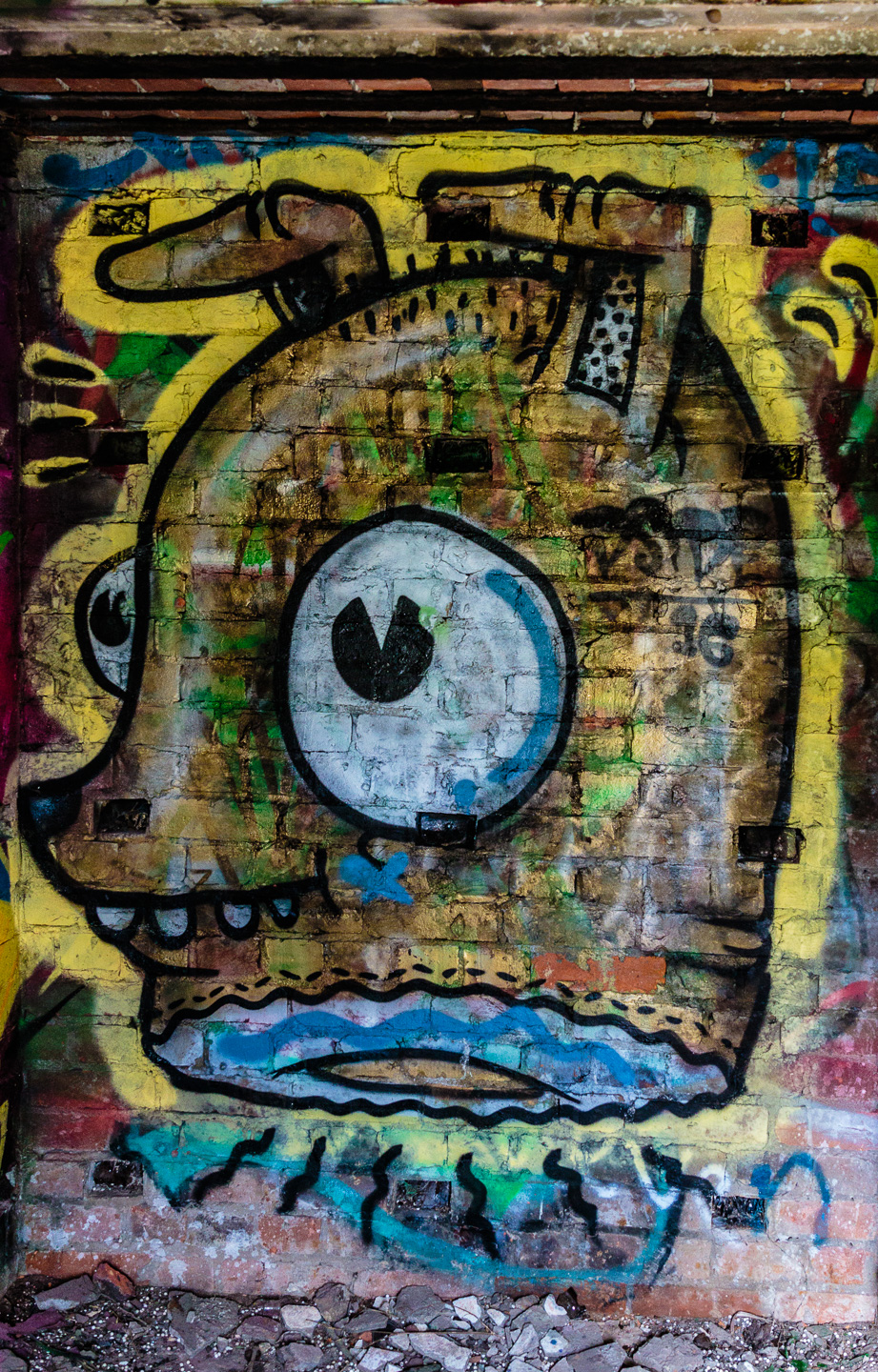 Canon EOS 7D Mark II, Canon EF 24-70mm f/2.8L II USM lens @ 24mm, 1/125 second @ f/3.2, ISO 1250.
This week the challenge was to get out and shoot some graffiti.
I ordered a new toy on Monday, and it arrived on Wednesday, so I got to use it for this challenge, which makes me happy. Anyway, Melissa did a search for graffiti in Wellington, and came across a spot which isn't too far from where we live, which is good (I was thinking of some spots in Karori, and who really wants to go there?) A little Apple Maps stalking, and we figured out how to get there, so I decided to slack off work early and go out this afternoon. When we got there, there was so much stuff that I had far too many photos to choose through, so I made an album to showcase some of my other photos. I also should have taken a flash. Anyway, this is the one I picked.
Posted by Michael Welsh at 05:54.
Scrape toxically
previous article -
next article -