19 April 2016, 07:42

Canon EOS 70D, Canon EF 100mm f/2.8L Macro IS USM lens, 1/200 second @ f/4.5, ISO 640.
This week the challenge was to take a portrait of a domestic bird.
This is somewhat out of my comfort zone. I normally shoot wild birds (I'm quite fond of hihis) at Zealandia. My back-up plan was to shoot the takahē on Sunday. They're basically domesticated. However, one of Melissa's dancing friends has a pair of canaries. So we wandered over there, armed with all the kit. I set up my flash into an umbrella, and pointed it at the birds (you can see the catchlights in the eyes). I know that the challenge said "use natural diffused light if you can", but it's easier to just use a flash, especially in dim light with flighty birds. I shoved the macro's lens hood right up to the cage and fired away. I quite like this shot because it makes the canary look a little like a chicken, which I find amusing.
Posted by Michael Welsh at 07:42.
Flail aromatically
14 April 2016, 05:33

Canon EOS 7D Mark II, Canon EF 70-200mm f/2.8L IS II USM lens @ 130mm, 1/160 second @ f/2.8, ISO 4000.
This week we're back to portraits and the challenge is environmental portrait, which is actually an occupational portrait upon further reading. Oh well.
My first thought was to go shoot at the hospital, as I have an in there. However, that needed to go through the communications department at the hospital, so screw that. Instead, I went for a site visit today, and took some photos of the builders working. This is a builder removing a ceiling. You can see the gib falling and all the particles on his face. There wasn't much space to frame up a nice photo (this is basically framed between some wires and a prop), and there wasn't much light, so I was quite restricted in what I could do.
Posted by Michael Welsh at 05:33.
Danceswirl shakily
8 April 2016, 05:10

Canon EOS 7D Mark II, Canon EF-S 18-55mm f/3.5-5.6 III lens @ 55mm, 1/320 seconds @ f/5.6, ISO 1250.
The theme for this outdoor week of the photo challenge is Death in Nature.
I wasn't really feeling it this week, and with the football season now in full swing, my weekends are a little busy, so I don't really want to go wait for a better photo (I have a few half-ideas, but they all involve that precious resource: time during the day). On Tuesday, I went to Newtown for a site visit, and came back over the hill via the Southern Walkway. I had my camera with me, so I took a few photos that I thought fit with the theme for this week. This is the best of a bad bunch, unfortunately. It's a leaf that has shrivelled up and died, with the other leafs around it showing different stages of death: some have been gnawed on, and some are starting to brown.
Hopefully in the future I'll be able to manage my time better. We'll see.
Posted by Michael Welsh at 05:10.
Dribble charismatically
30 March 2016, 05:38

Canon EOS 70D, Canon EF 70-200mm f/2.8 IS II USM lens @ 168mm, 1/1000 second @ f/5.6, ISO 160.
This week, it's back to black and white. And it's one that I really don't like: street photography. I just don't get street photography, which is a rant for another time.
I went and stood on the corner, with no real idea what to shoot. I was thinking of maybe catching someone over the road smoking in their doorway, but they weren't there. It was probably too early for them. Then I saw that I had some lines leading towards the fire training tower at the end of the street. I looked up, and then hurriedly snapped off some shots, trying to catch the plane and the man walking. I then hung around for a bit to see if I could improve on this, but I had no luck.
Hopefully street photography doesn't come up again this year.
Posted by Michael Welsh at 05:38.
Tempt ficklely
25 March 2016, 08:17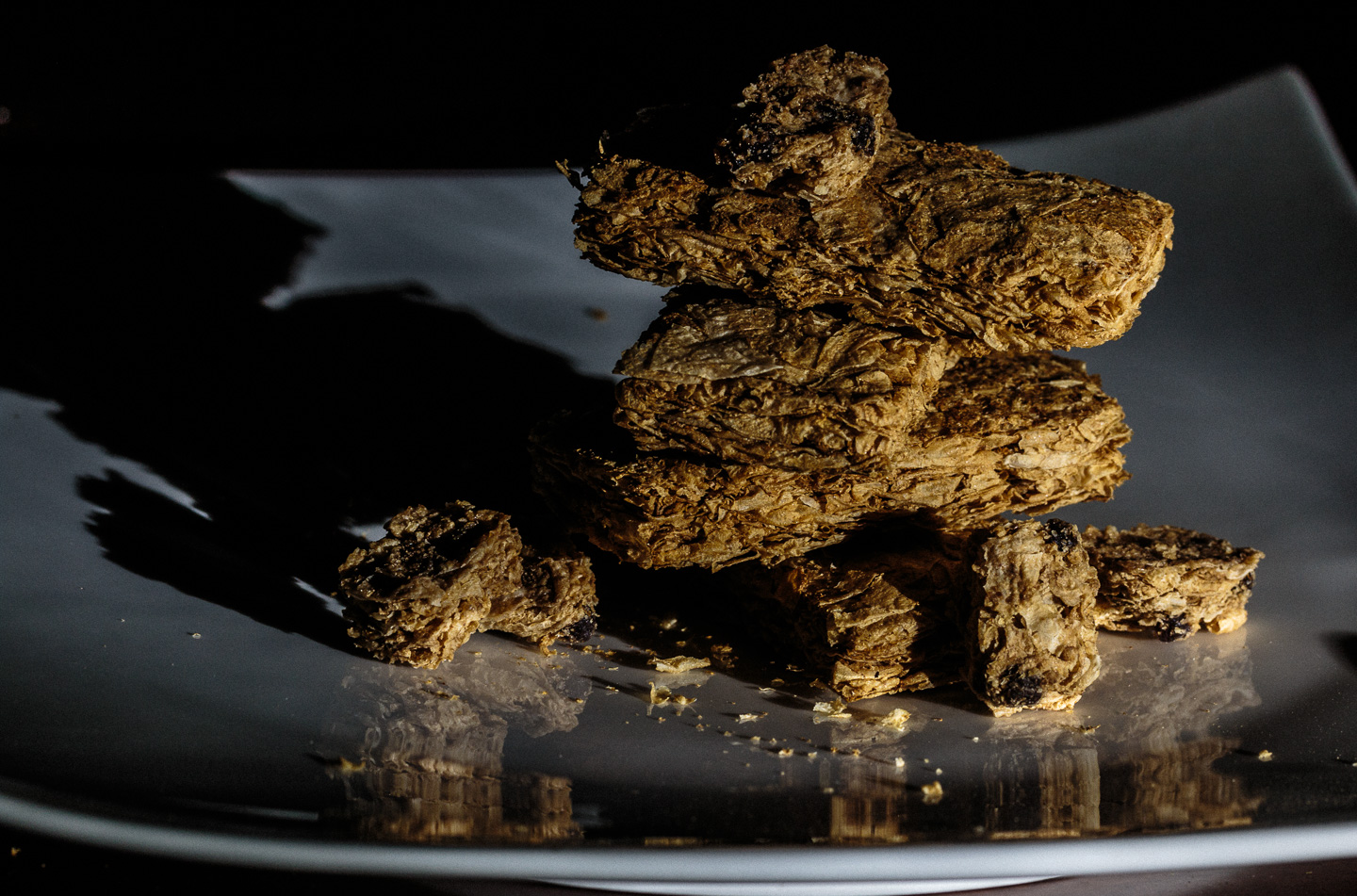 Canon EOS 70D, Canon EF 100mm f/2.8L Macro IS USM lens, 2.5 seconds @ f/8, ISO 125.
This week, the photo challenge was to do a still life in the style of some Dutch masters. It's the first challenge that I just haven't really been bothered much with. It might be because I have so much else going on at the moment, but more likely, I just don't care about still life (thankfully I missed the HDR week).
One of the styles is Ontbijtjes ("little breakfast"). So I thought I'd get a little breakfast and shoot it in the style. So here's a little bit of Weet-bix, with some of Melissa's little fruit Weet-bix hanging around. I put it on a nice serving dish we have, and made Melissa light it with a torch. The plate picked up some nice reflections.
Posted by Michael Welsh at 08:17.
Smirk fetidly
18 March 2016, 21:32

Canon EOS 7D Mark II, Canon EF 100mm f/2.8L Macro IS USM lens, 1/250 seconds @ f/2.8, ISO 100.
We're back to portraits this week in the photo challenge, and this time we're supposed to use bounced light.
Bouncing light is something I'm quite familiar with (at a basic level at least), so the real challenge was finding a subject. So when Susan and Kassie came around to help stuff tea bags, I jumped at my chance.
This was shot with an off-camera flash in a soft-box thing (it attaches to the flash head, the blue shop sells them) pointing at Kassie from the left of frame, and Melissa holding a reflector to bounce some of that light back onto the right side of Kassie's face. I had her pose so the flash hit her at an angle, just because. A little bit of spot removal in Lightroom et voilà.
Posted by Michael Welsh at 21:32.
Gobble venerably
11 March 2016, 19:59

Canon EOS 7D Mark II, Canon EF 50mm f/1.8 II lens, 1/250 second @ f/1.8, ISO 2000
This week for the photo challenge, we're back to going outside, and we've been challenged to take a photo using the Brenizer method. This is basically take a grid panorama to fake the effect of a large format camera. In other words, a wide angle photo with heaps of bokeh.
Yesterday was Melissa's 30th, and we went to Zealandia in the afternoon/evening (full album up on Dr yomcat shoots in due course). I had a new toy to play with, but I also took along a short lens so I could do this challenge. I made Melissa pose, and then took 38 frames around her. I stitched these together in Lightroom, then added a little content aware fill in Photoshop. I cropped it to a $4 \times 5$ and here it is. As a bonus, when you click on the image above, you can get the big-arse version (it's $11463 \times 9170$ pixels, and around 20MB).
Posted by Michael Welsh at 19:59.
Call ferally
1 March 2016, 07:13

Canon EOS 70D, Canon EF-S 24mm f/2.8 STM lens, 1/100 seconds @ f/5.6, ISO 200
So we've come full circle with the photo challenge, as we're back to black and white this week. The challenge for this week was entropy. The challenge writer was explicit in his removal of the physics definition, but made no mention of the information theory definition (a logarithmic measure of the rate of transfer of information in a particular message or language). Unfortunately, I couldn't really think of a nice way to shoot this, and the generic definition just works better.
While working to work yesterday, I saw a crashed car (looked like it hit a powerpole or something) on the footpath outside the police station. But I didn't have my camera with me, and I hadn't really read the challenge at that point. Plus, when I got home, I realised it was the opposite of entropy — it was a sudden decline into disorder.
Then I remembered that we have this old wheelbarrow in the back lawn (it's not ours, it was there when we moved in). There were a few challenges with this subject though, the main one being it's not physically possible to move it (I tried, and the bottom fell out without much prompting). So I basically only had one angle from which to shoot it. In post, I moved the white point around a lot to emphasise the texture on the barrow (it's actually a rather rusty red, not the bright colour shown here).
Posted by Michael Welsh at 07:13.
Persist regardlessly
24 February 2016, 05:13

Canon EOS 70D, Canon EF 100mm f/2.8L Macro IS USM lens, 1/250 seconds @ f/5.6, ISO 100.
This week's challenge was make lots of bokeh. Not really a challenge for me, but it seems the guest posts are heading that way (the first one was freezing action, and I shoot a lot of football). Oh well.
Yesterday was our eighth wedding anniversary, and the Internet tells me that I'm to get my wife salt. So I got her some flowers. Anyway, I decided that I'd shoot some salt as the bokeh for this week's challenge. Problem was, the salt shots were pretty boring. So I went and grabbed one of Melissa's necklaces, shoved it in the salt, et voila. I pulled the blues way up, because the colour in actual piece of jewellery is very subtle, and made the image look very washed out.
If you look close enough, you can see my red ring in the clasp.
Posted by Michael Welsh at 05:13.
Stock accusingly
18 February 2016, 08:52

Canon EOS 70D, Canon EF 100mm f/2.8L Macro IS USM lens, 1/125 seconds @ f/2.8, ISO 320.
When this week's photo challenge was Portrait of Your Love, there was only one person I could make a portrait of.
So here's Melissa. I set this up in the front porch.My long lens is currently set up for football (ie, it has the extender on it), so it's too slow for shooting a nice wide-open portrait. But 100mm isn't too bad, so I grabbed the Macro. In terms of lighting, my first idea was to use my umbrella, but it's as big as the front porch, so I wouldn't be able to see past it. Not so useful when you're trying to take a photo. Instead, I blu-tacked a gold-white reflector to the window and used that to bounce the flash onto her. You can see the effect this had most in the background – it's the back of a real estate sign, so it's pretty much white. I then made lots of inappropriate comments, and fired away. I went for a tight square crop, because it seemed to fit the challenge best in my opinion.
Also, there's another part of these portrait challenges. Each one has to be of a different person. So that's going to be interesting.
Posted by Michael Welsh at 08:52.
Exult jauntily
previous article -
next article -