22 October 2018, 21:55
Melissa has asked for this.
Power tools, specifically anything from the Makita 18V (or double 18V) range. I recommend Bryan at Marton Outdoor Power for all your Makita needs. A few specific options:
Hand tools. In particular, I could do with a decent drill bit set, a wrecking bar, a pinch bar, a plane, some clamps, or anything else that Dad has in his shed that I no longer have access to (this goes for power tools as well).
A nail gun (it allows one to do nailing by oneself). Placemakers is probably the place to go.
I'm still after camera gear, though I have pretty much all the lenses that cost less than a car. That new flash looks pretty nice though.
A job.
Shorts.
A Hilux.
Recipe books, especially ones that specialise in muffins.
The complete set of Ronald Welch novels.
It's probably about time I upgrade my iMac as well.
Some high-quality bluetooth headphones (bonus points if noise-cancelling)
Posted by Michael Welsh at 21:55.

6 January 2018, 00:55
Continuing with my selections from last year, here are my favourite twelve photos from 2017. It was a different year — I shot a lot more football than previous (not sure how I feel about this, to be honest, I'm getting pretty sick of football), but I did enjoy the Photo Challenge shots a bit more, probably because they were pretty much the only non-football stuff I did.
Overall, I think I prefer my 2016 photos, but there are still some great ones from this year. Note that this is a selection of my favourite twelve, and they all have reasons for making it, none of which are "is a good photo". I also noticed that I do a heap of central-framing, probably because that's how I use my camera. I will endeavour to move away from this, as it gets pretty boring.
So here they are (in chronological order).

Straight into the football photos, and this is one of Alice from a pre-season game out at Stop Out. I like the "ball-as-the-face" thing, and this one is pretty much perfect.

I went on a pre-season tour with the Diamonds to Auckland, with sights such as Snowplanet and a Phoenix game. They did play a bunch of games as well, and this photo, while a little risqué, was used to break the news of a big transfer in Auckland.

The greatest game of football, possibly ever, was the Team Wellington v. Waitakere semi-final from the SS Premiership at the end of the 16/17 season. This photo shows the fans heading towards the players after the winning penalty was scored.

Tash spent the season telling me off for not taking enough photos of her, I told her to go up front. So she did whilst playing for the Sapphires. She did manage to score, but this photo is her reacting to a pass to me.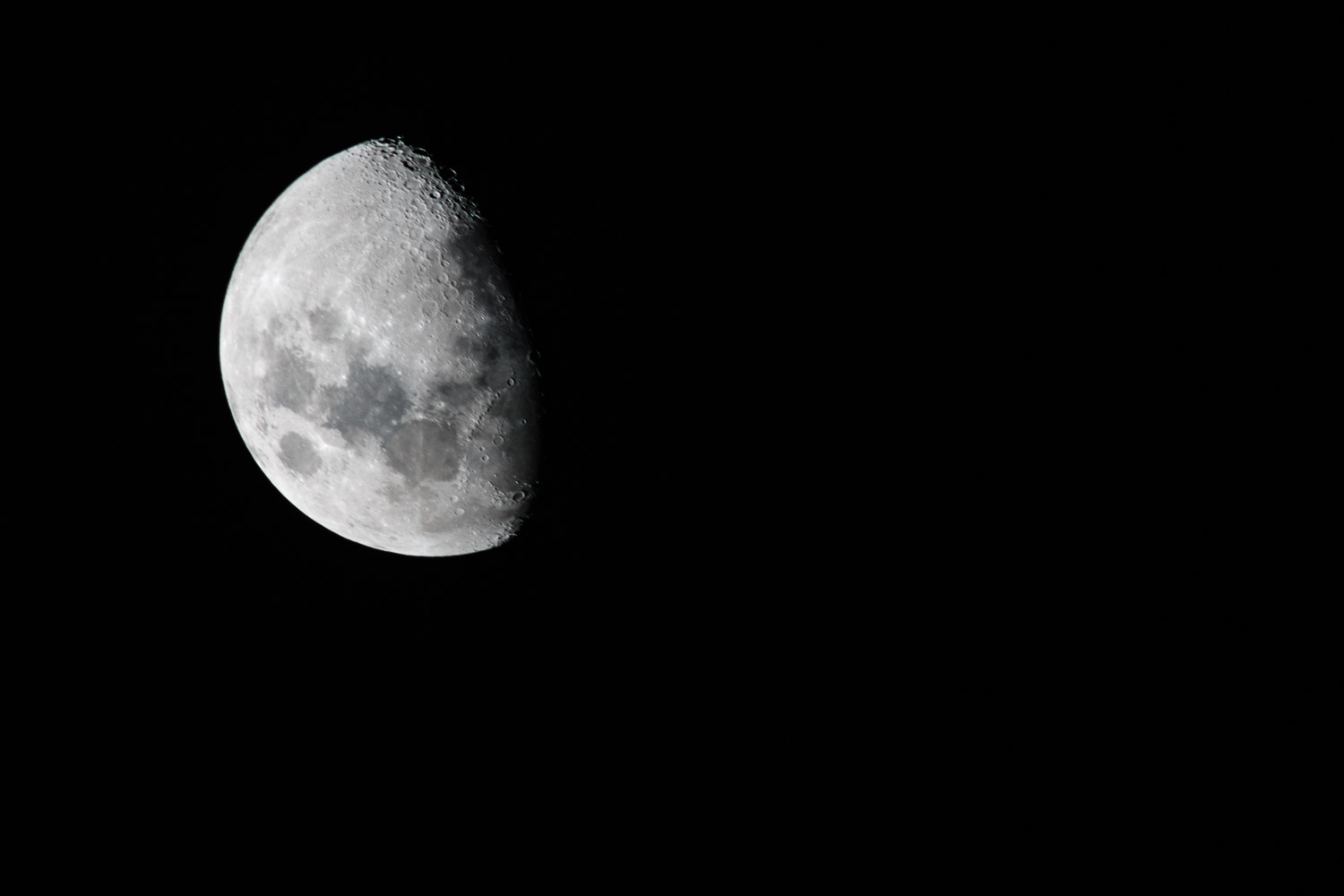 Once I had my 400mm lens, I wanted to take a photo of the moon with the 2× extender on. Manual focusing (not to mention it's an f/11 combination) is a pain, but I pulled it off.

I went along to a Team Wellington academy thing, and took a lot of photos (that are out there if you know where to look). This is one of the girls cleaning up and she still has a huge smile on her face.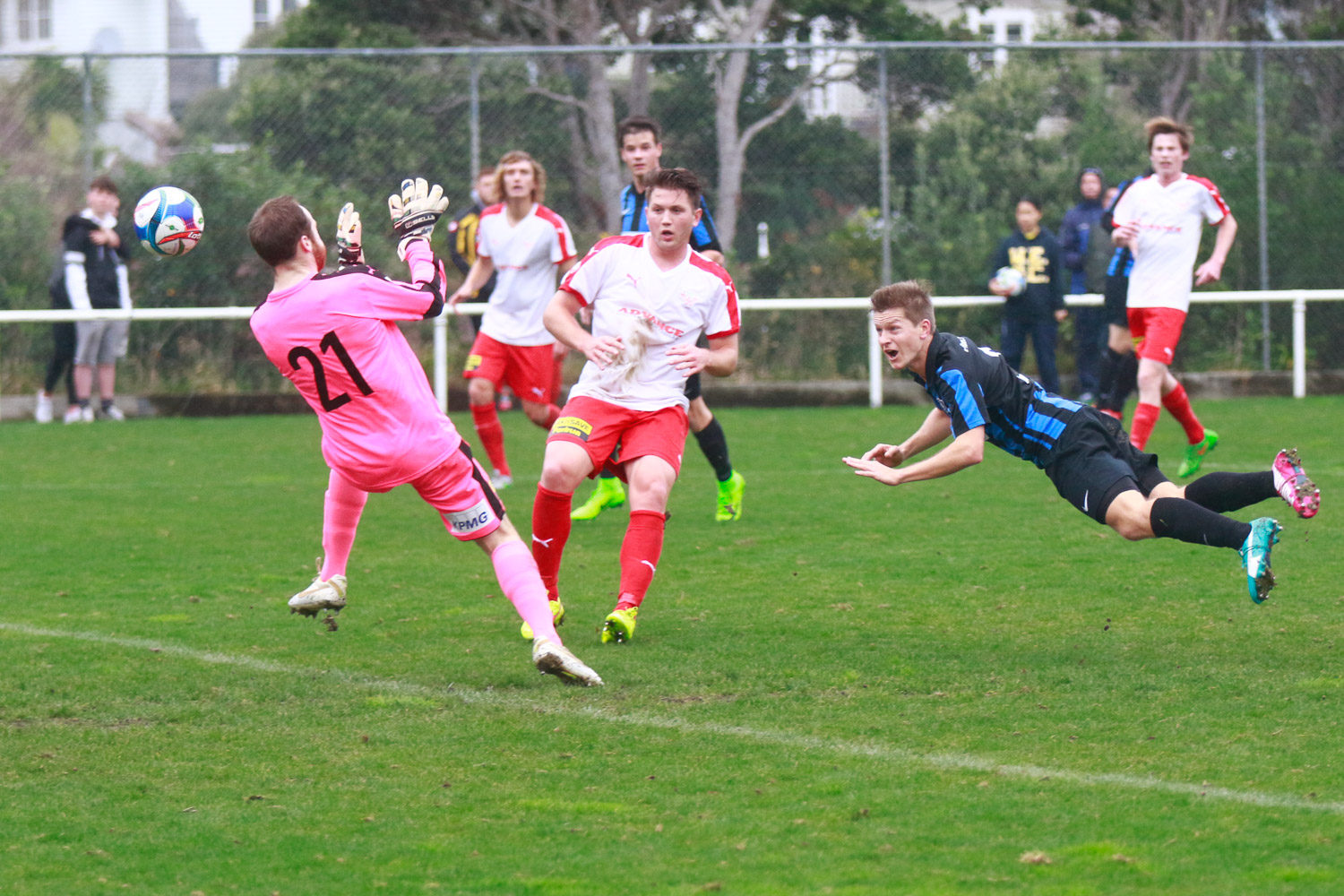 I went along to Miramar hosting Wests with the express purpose of getting a photo into the paper. This is what I came up with (and then they went and made it tiny, jerks).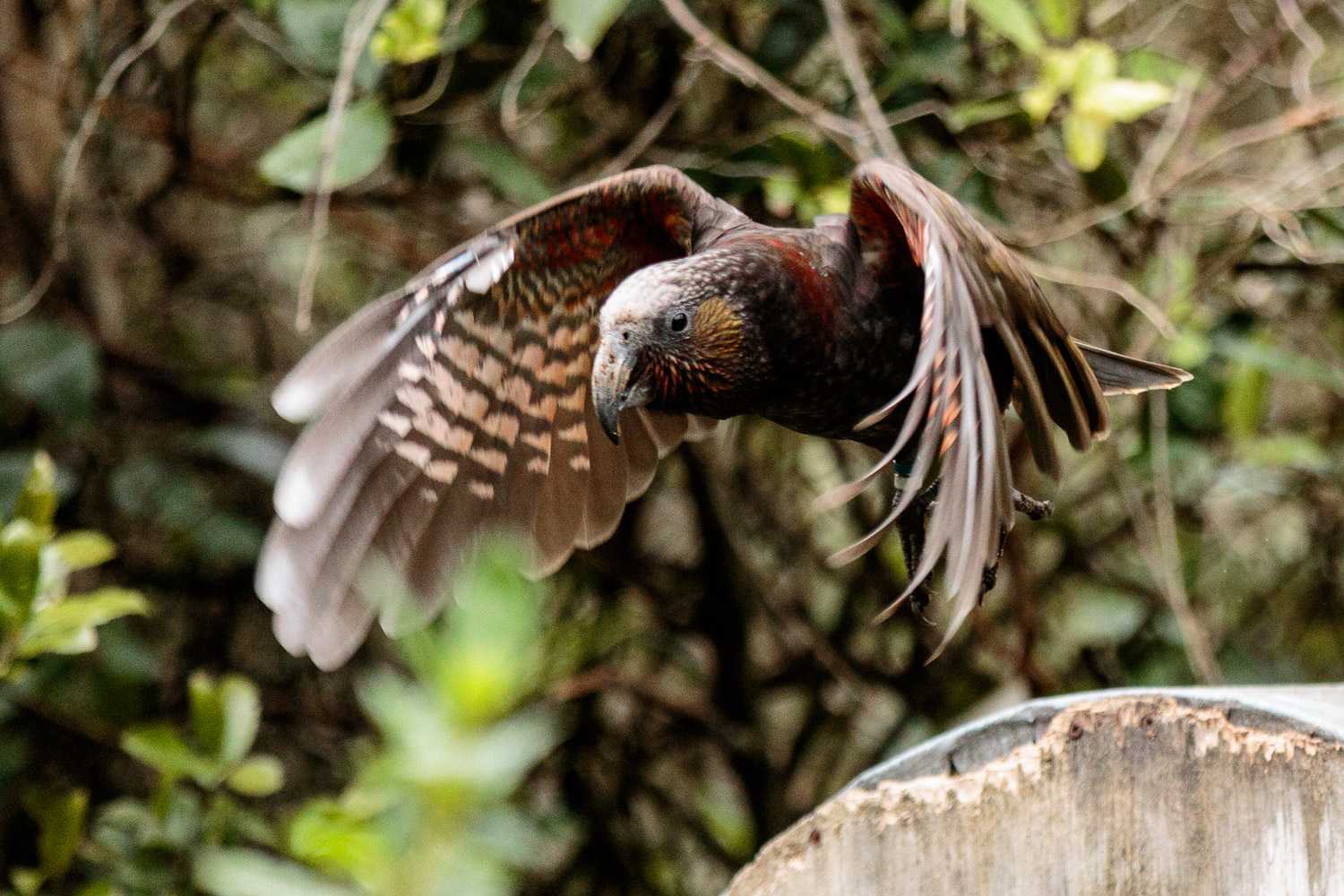 I've been trying to get birds in flight for ages. I nailed a fair few in 2017, this one of a kaka is my favourite.

For one of the photo challenges, I wanted to take a photo of me and Mellisa with off-camera flash. To fire the camera, we used the mic in my phone and had a lot of fun making enough noise to fire it.

Getting a photo from this angle in focus is difficult as part of a normal game (I can change settings to make it trivial, but then the rest of the game is impossible to focus in). So when I got Dani scoring one of her three goals against Wests I was pleased.

Tara, the Sapphires manager, was out all season with a bad injury (hence why she was the manager). She came on in the last game of the season and took a throw-in (the ball was passed to her very slowly but she avoided it rather amusingly). This was also my last deliberate throw-in photo.

Another one of the photo challenges. This one was creative Christmas lights. I've always wanted to wrap someone in lights and take photos, and Melissa was game.
And finally, some stats (and gear talk).
I exported (fully processed) 4459 photos in 2017, which is up a little on 2016. The 7D Mark II is still my most used camera – 73.92%, also up a little on last year. The 70D comes in second, making up 24.09% of photos. In terms of lenses, I used the 2× extender once – for that moon shot. My standard football shooting kit is the 70-200 on the 7D2, with the 400 on the 70. Therefore the lenses line up pretty close with the cameras – 70.69% with the 70-200 and 17.27% with the 400. I do use the 24-70 a fair bit, but most of my photos are football, and it's pretty useless there. Assuming I continue to shoot a lot of football, I don't foresee any changes in 2018.
My most common focal length has been 200mm, with 400mm close behind. Not overly surprising. My most common aperture was f/2.8 (again, not surprising), and my most used ISO was once again auto (but 100, though they're all over the place).
Posted by Michael Welsh at 00:55.
Tangle hintingly
5 May 2017, 08:48

Canon EOS 70D, Canon EF 400mm f/5.6L USM + 2× III lens, 1/15 seconds @ f/16, ISO 100.
I had a nice blurb all written, but then I hit Z instead of V and lost the lot. So here's what you get if you point a 800mm lens at the moon.
Posted by Michael Welsh at 08:48.
Tread monstrously
31 December 2016, 22:37

Canon EOS 70D, Canon EF-S 18-55mm f/3.5-5.6 III lens @ 18mm, 0.4 seconds @ f/5.6, ISO 100.
The last challenge of 2016 is to do some time stacking.
I've been far too good at procrastinating this week, so I've left this until 2017. And it's a terrible day outside, so I'm staying inside. Instead of using Photoshop to do the stacking, I've used the strobe feature of my flash (which is something I've wanted to try out for awhile). I learnt that you really need a non-reflective background, and that strobing doesn't play nice with the pocketwizards. It's also hard to time and aim a throw, but the mammoth seemed to enjoy it.
Posted by Michael Welsh at 22:37.
Trundle oppressively
26 December 2016, 21:38
As this is the first year I've taken a decent number of photos (49187 according to Lightroom, with only 6099 last year), I thought I'd go through and pick out my favourite twelve shots. And then explain something about them. Some I like because of the photo, some because of the occasion, and some just because. It was very, very hard to restrict this to 12…
So here they are (in chronological order).

I've had a desire to light someone on fire and take photos for awhile. I even had a model. We managed to get a day when everyone was free, threw Esther into a wedding dress, and lit it on fire. It was great fun. For the full albums from this shoot, go look here and here.

Last season, Cam hooked me up with a press pass for a Phoenix double-header. This was great, especially since the main game was the "Saved the Nix" game, and the Phoenix won. Check out my photos from the curtain raiser and the main event.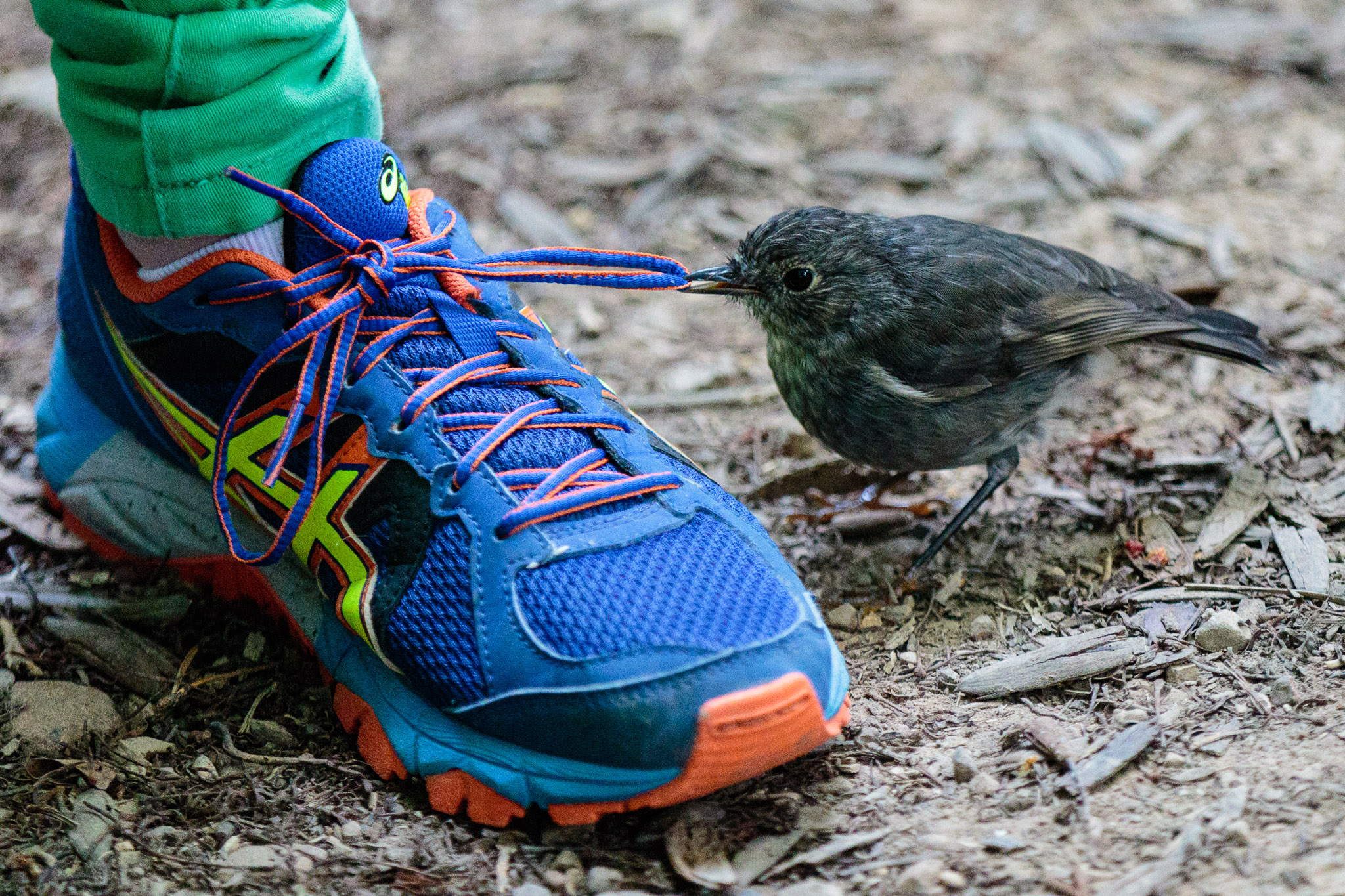 For Melissa's 30th, I took her up to Zealandia. We met a Robin on one of the paths, and spent probably half an hour just standing still and watching it. Eventually, it got inquisitive enough to try and untie Melissa's shoe. Check out the full album.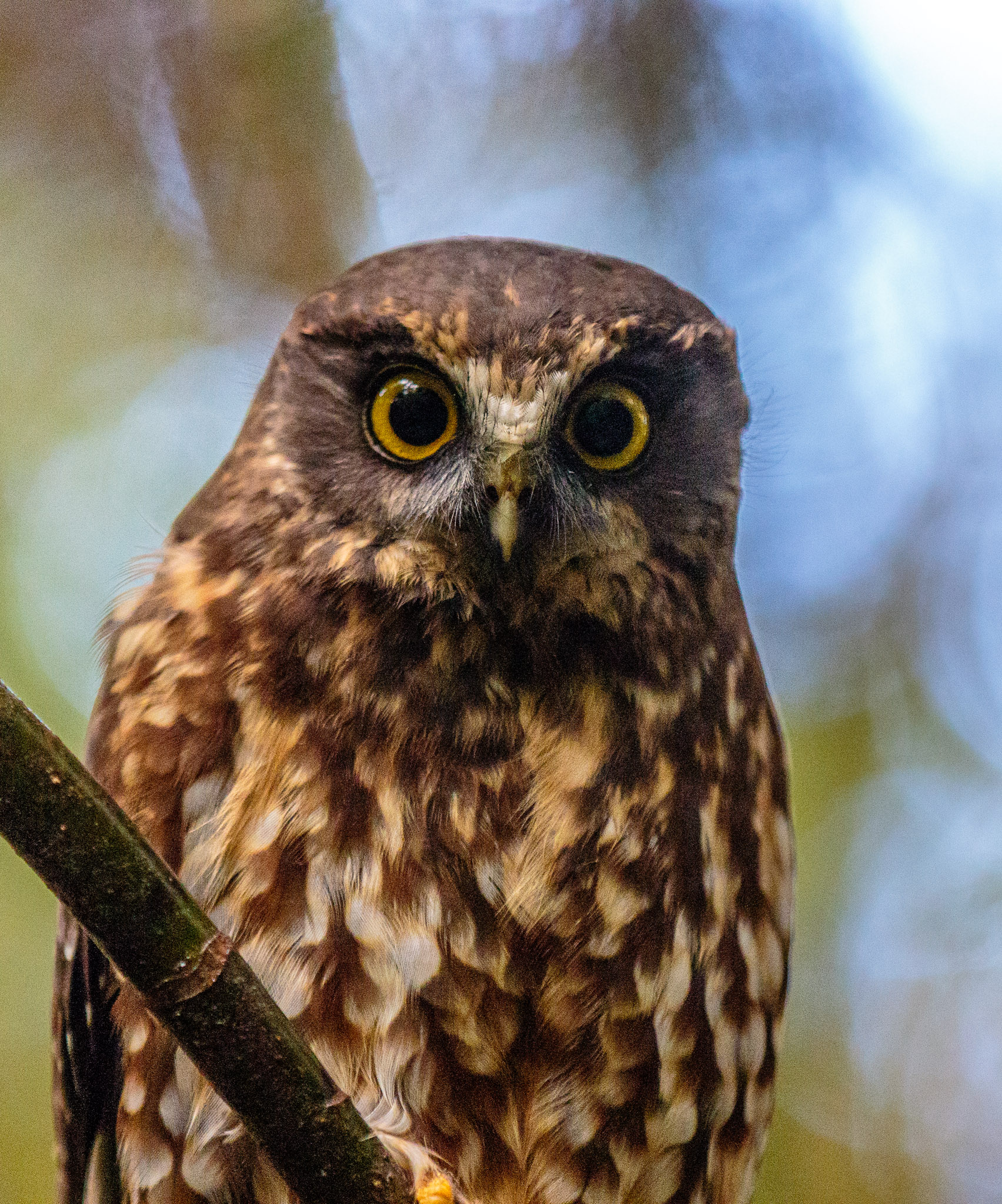 For round one of the Chatham Cup, there was a meet-up of sorts in Taupo. Me and Melissa took a few extra days and had a little holiday around it, which was great. My undoubted photographic highlight of the trip was getting this morepork, randomly sitting on a branch, in the middle of the day. I haven't finished processing the photos from this trip yet, but there are some in this album, and the photos from the Chatham Cup game.

Yes, it took this long to get a photo from a Diamonds' game. This one is from the cup game versus Petone. I like this photo a lot, basically because of the lighting.

This next shot is from a little later in the season. The Diamonds had just been bundled out of the cup, and were hurting. They went up to Palmy and put 19 past Massey. Early on in the game, one of the Massey defenders handled the ball on the line. This photo shows the range of emotions in the aftermath – outrage from Hope, a facepalm from Maika, and either disbeliief or "oops" from the Massey players.

This is probably my favourite action shot from the season. It's Alana, one of the Sapphires, running after the ball. One gets the feeling that she's running straight at the camera. Go check out the full album from this game.

I shot, and Melissa ran in, the Halcombe relay, put on by Rob's Feilding Moa Harriers. This shot shows a Harrier racing some motorbikes. It's pretty self-explanitory, really.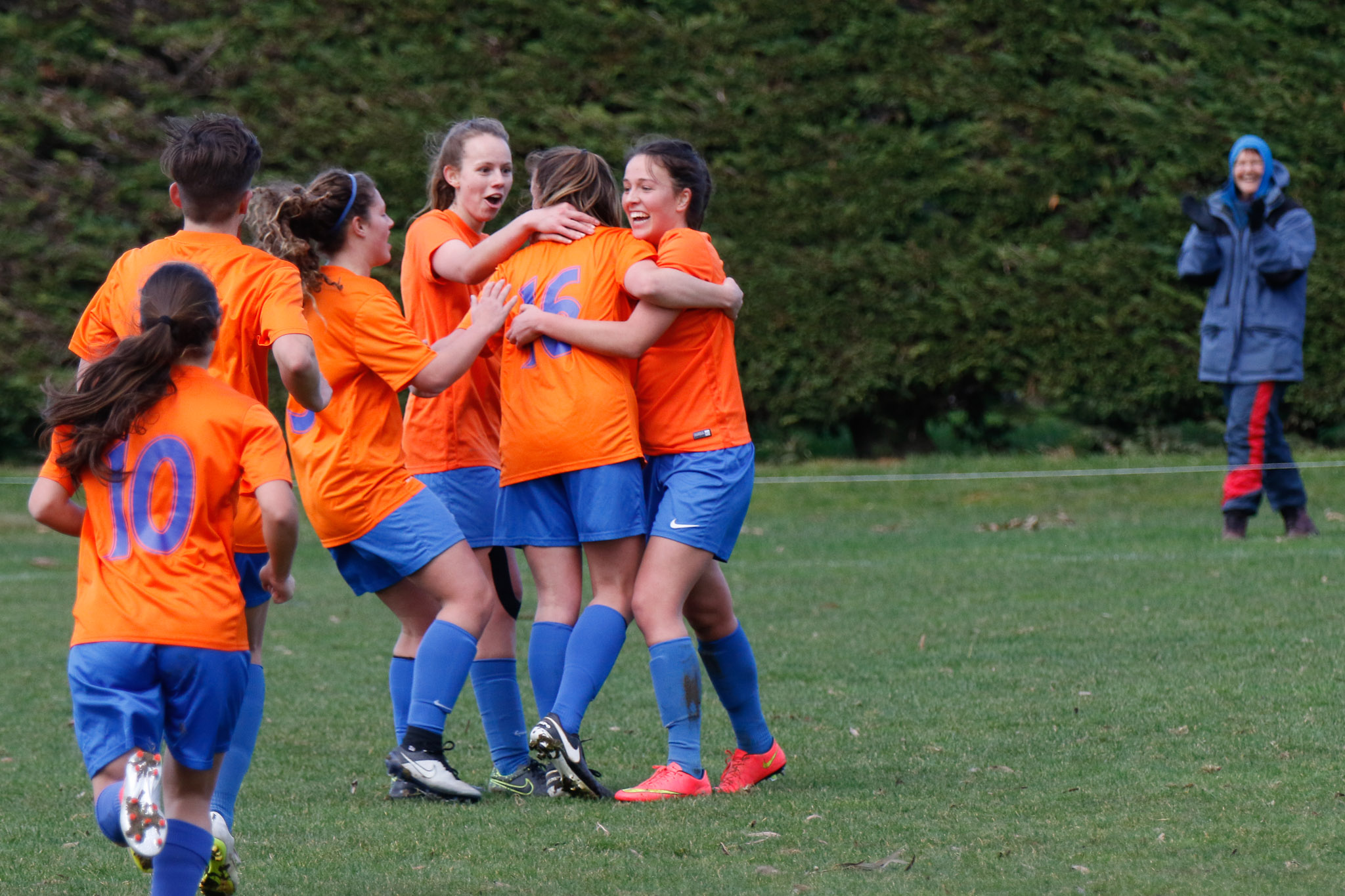 The way the Diamonds season went, it basically came down to a play-off for the title in the last two games. The first one was away in Palmy, and they came away with a 3-0 win. This pretty much sewed up the league (I think they needed to lose by 8 goals or something at home). This is a celebration shot of Asha (#16's) goal. I quite like this one because the one fan you can see in the background is Asha's mother.

So the Diamonds won the Central League (woo), and eventually got their hands on the trophy. It felt neglected, so I gave it a special bokehilicious photo shoot just for it. You can still see Alice's lipstick on the back if you look closely enough…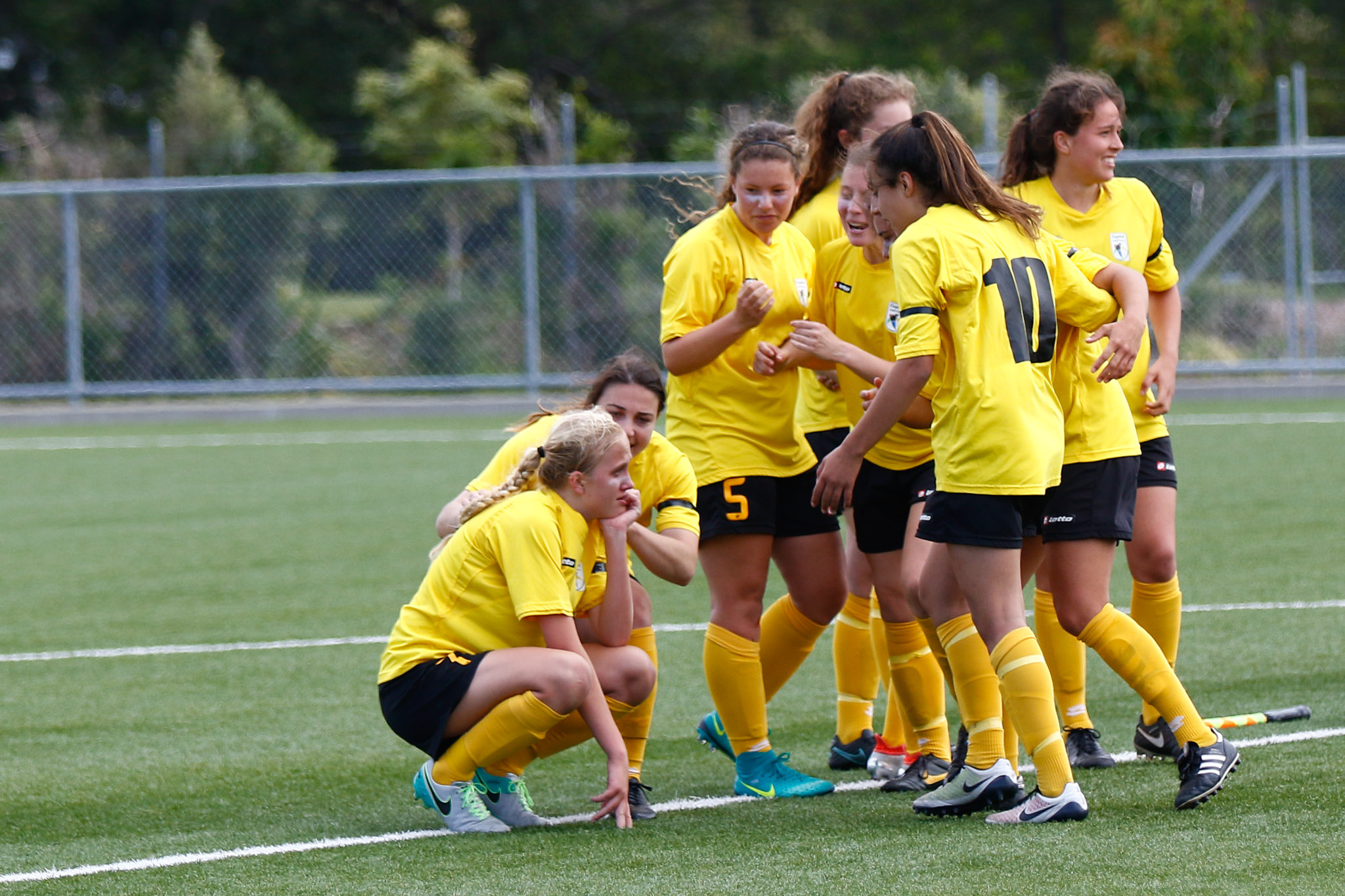 I was shooting for the Capital Football women's team in the National Women's League. They had a great season, and made it to the pre-final, which was in Wellington. Emily hit a 95th minute equaliser to force extra time, and then the game went to penalties. Emily had the misfortune of seeing her penalty get saved, and was sitting dejected on the halfway line afterwards. Her team mates went and consoled her.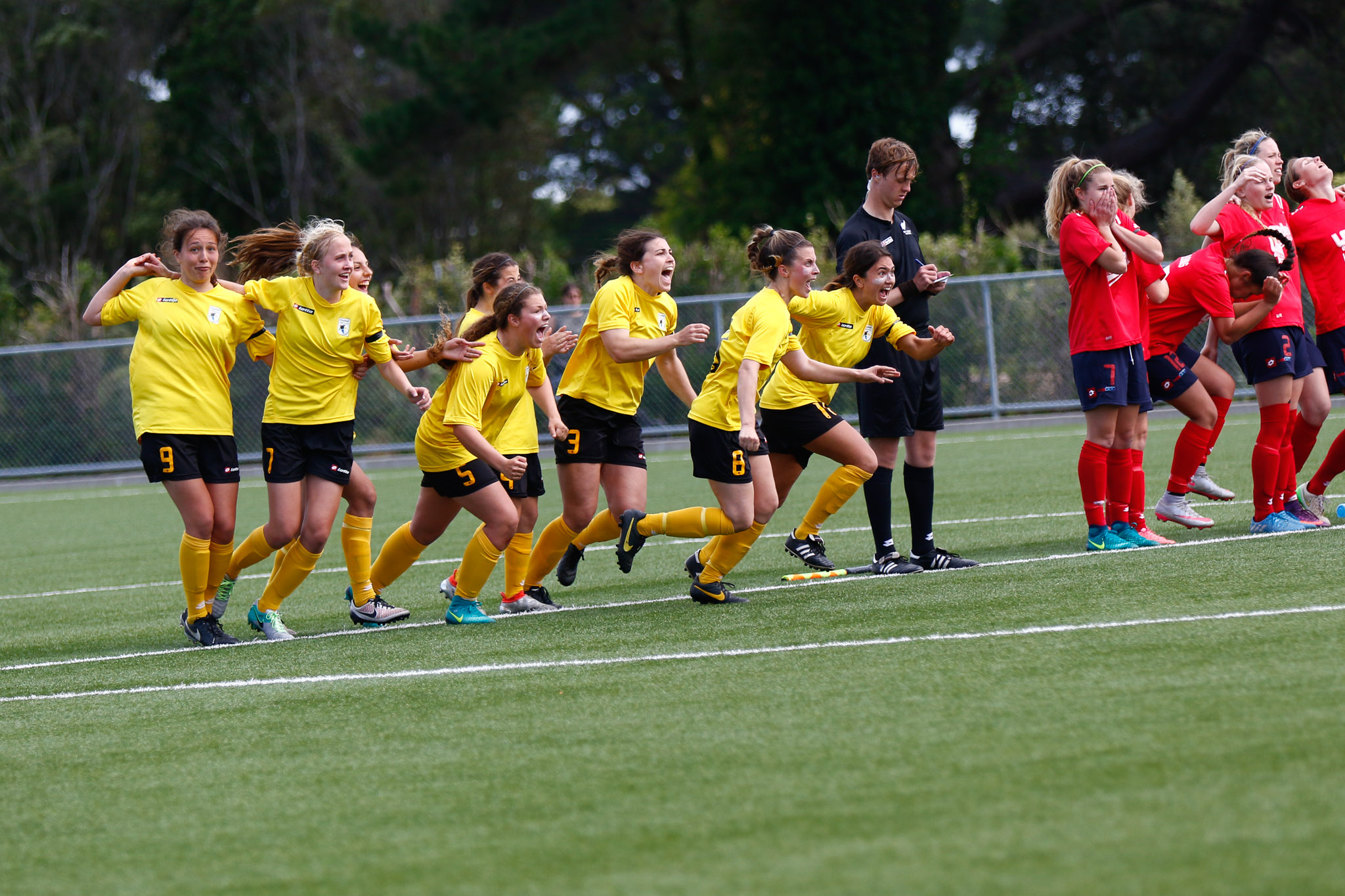 Turns out her miss didn't matter, as Tash saved two penalties and Capital won the shoot-out. This is probably my favourite photo (even though they're running up a hill) as it shows the range of emotions – the Capital players are ecstatic, the WaiBOP players are devastated, the AR is nonchalantly making notes, and whatever Jayme-lee is doing…
And finally, some stats (and gear talk).
When I restrict to exported (so fully processed) photos, there are 3555 shots in that collection. Of these, the 7D Mark II is by far the body I used the most, with 72.57% of the photos (the 70D is in second with 26.86%). I expect this to pretty much stay the same – it's my sports camera, and I shoot a lot of sports. In terms of lenses, there are two at the top: The 70-200 with the 2× extender (51.39%), and the 70-200 by itself (31.67%). Next year, I expect my extender use will go down, as it's been acting up and I should really get it serviced. Also, my new 24-70 should get a greater use, as I'll have it for an entire year, not just a month or so. Finally, depending on when I get a new long lens, there's a decent chance it could be the new favourite. We'll have to wait and see…
My most common focal length has been 140mm (I was expecting 200 or 400, so this is a little surprising, but it makes sense). My most-used aperture was f/5.6 (yup, just as expected), and my most used ISO was auto (but ISO 400).
Posted by Michael Welsh at 21:38.
Spell deviously
23 December 2016, 01:05

Canon EOS 70D, Canon EF 70-200mm f/2.8L IS II USM lens @ 70mm, 1/320 seconds @ f/5.0, ISO 320.
For the penultimate challenge of 2016, we're making a holiday wishes thingy.
I've got both stereotypical Kiwi Christmas shots done. Adding in the sun is left as an exercise for the reader.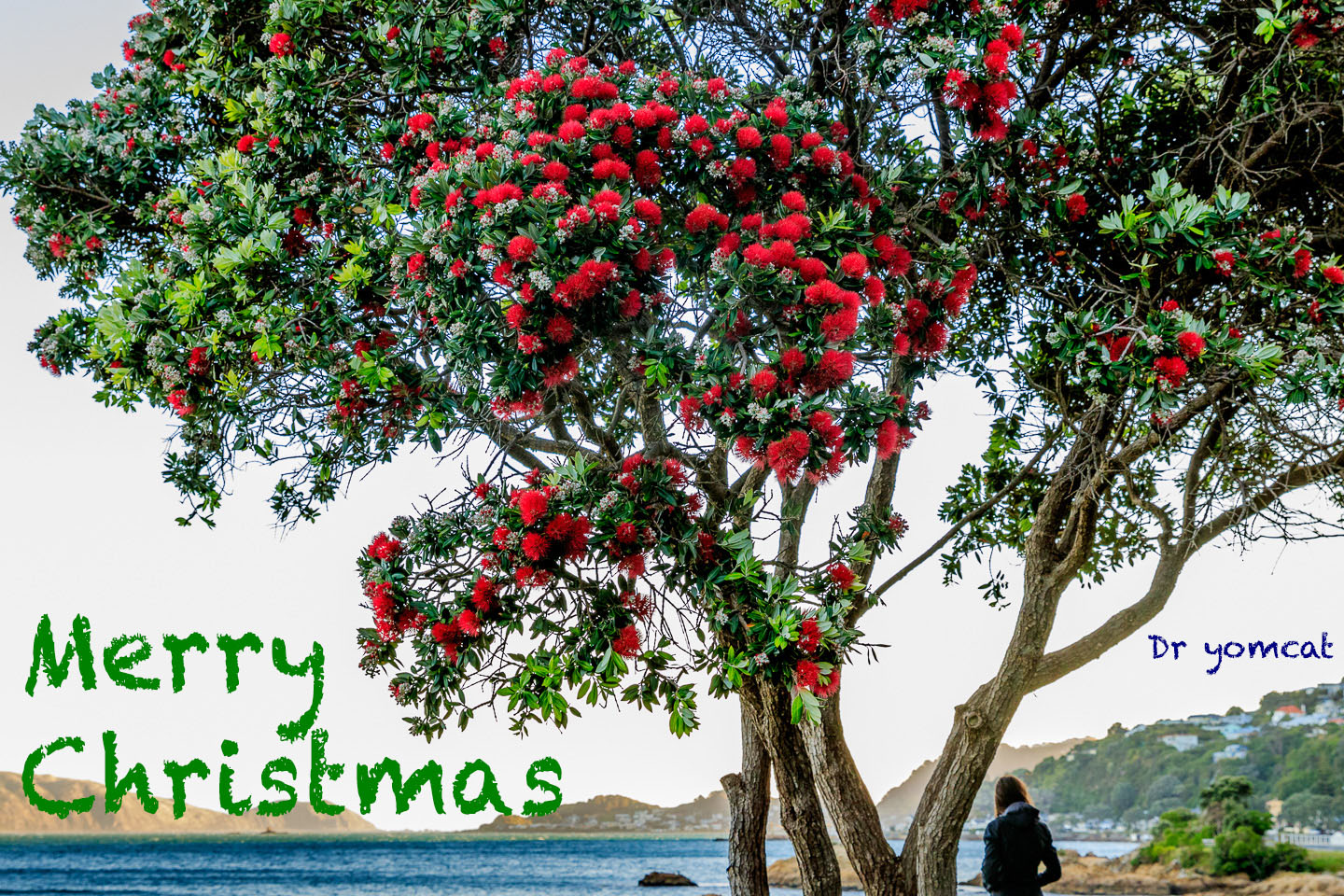 Posted by Michael Welsh at 01:05.
RANDOM VERB
17 December 2016, 09:17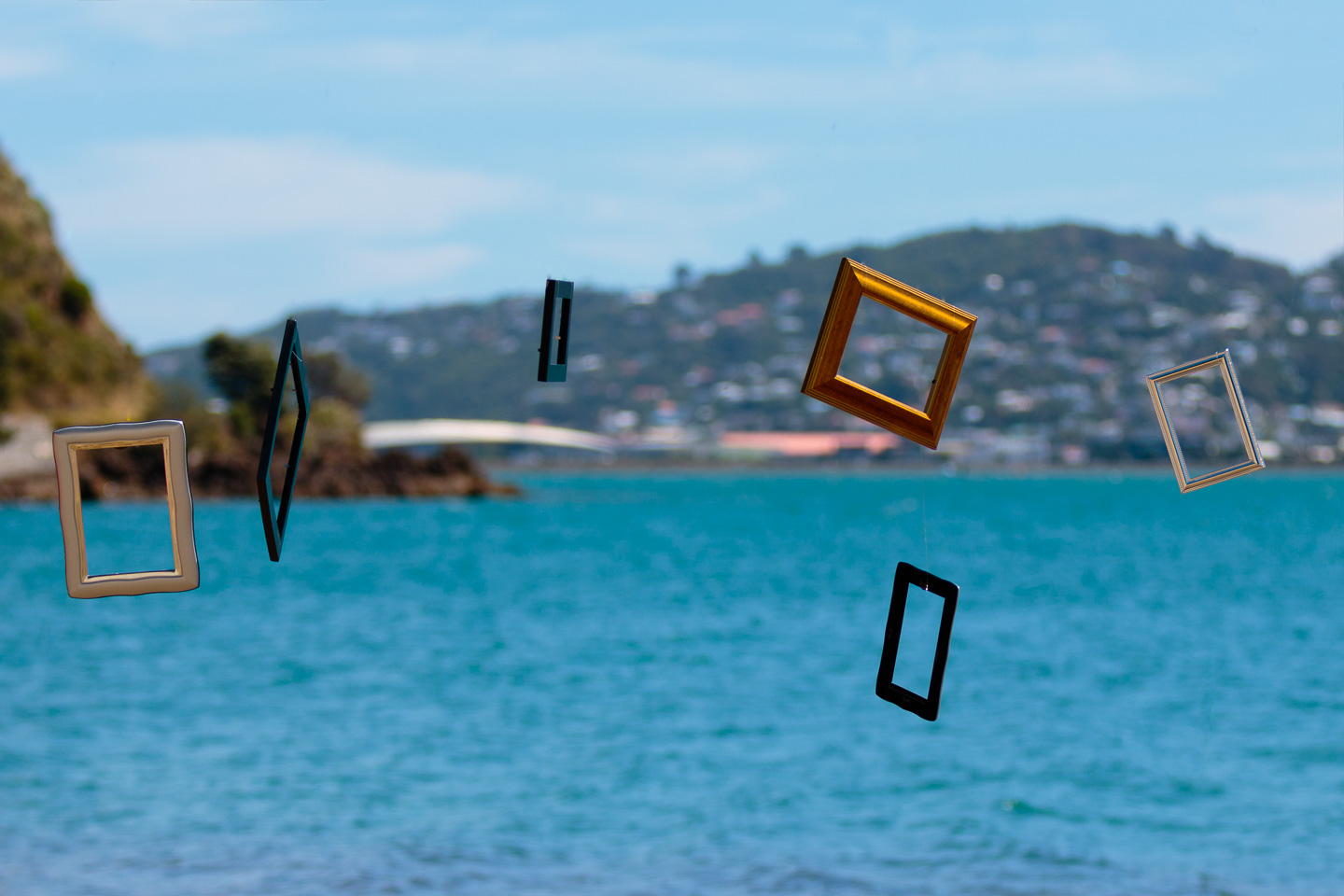 Canon EOS 7D Mark II, Canon EF 70-200mm f/2.8L IS II USM lens @ 70mm, 1/2500 second @ f/2.8, ISO 100.
This week we've been challenged to do a photo involving levitation. (The `outdoor' theme should really be the `Photoshop' theme…)
My first thought was epic, and going to be the best photo ever. Then my model when and got crippled. Typical. Since my life just got ruined, I was pretty much out of ideas. Then my sister came round, and she suggested this. We emptied out all our frames (though not the real nice ones, as the degrees can stay put), got some equipment for suspending them, and went to the beach. First beach was getting hammered by the wind (it's a typical Wellington day), so we went further around the coast, finding a nice sheltered bay. However, by the time we went set-up and ready to go, the wind came back and blew the frames all over the place. But I think this adds a little something to the photo.
A few ideas for improvements:
Go somewhere without wind.
Ditch the black frames, or get them defined better somehow.
Use a tripod, so I can stack together two shots with the bits inside the frames being in focus.
Don't let your model turn into a cripple (yes, I am bitter about this).
Posted by Michael Welsh at 09:17.
Dancelead deductively
10 December 2016, 08:39

Canon EOS 7D Mark II, Canon EF 70-200mm f/2.8L IS II USM lens @ 70mm, 1/250 second @ f/2.8, ISO 100.
This week the black and white challenge is to shoot the outside of a place of worship.
I went for a walk, but I didn't have anything really wide (24mm was the most I had, plus my crop bodies), so couldn't grab the church in its entirety (too many powerlines, cars, and trees). So I went for some detail shots. This is one of the steeple.
Posted by Michael Welsh at 08:39.
Eye foreignly
30 November 2016, 18:09

Canon EOS 7D Mark II, Canon EF 100mm f/2.8L Macro IS USM lens, 1/4 second @ f/2.8, ISO 100.
This week we're told to make bokeh with light.
When I saw this challenge, I immediately thought of the two bokeh-based techniques I've been meaning to try out. Rather than deciding between them, I just used both.
Posted by Michael Welsh at 18:09.
Simper prejudicedly
26 November 2016, 21:15

Canon EOS 70D, Canon EF 24-70mm f/2.8L II USM lens @ 24mm, 1/3200 second @ f/2.8, ISO 250.
This week we're taking a group portrait because America.
This is the table-topping (for about 5 more hours as I write this) Capital Women's football team after their big (play-off clinching) win on Sunday. There were a couple of photographers around, so the girls are looking all over the place. I had hoped to get a better photo throughout the week, but being off work all week and my photography style (fly-on-the-wall, or creepy-guy-with-bigarse-white-lens, depending on how you look at it) colluded to make it not happen.
Posted by Michael Welsh at 21:15.
Furrow optimistically
previous article -
next article -